Ryder Wright – Milford, Utah
1-time WNFR qualifier
1-time RNCFR qualifier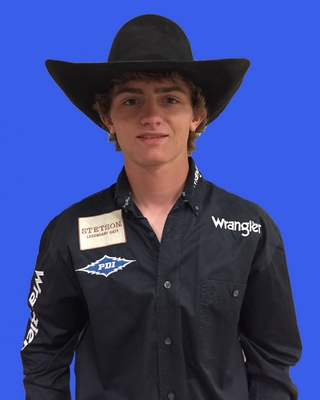 Most teenagers anticipate their 18th birthday with a lot of excitement. No one was happier to turn 18 than Ryder Wright.
As soon as he turned 18 he joined the PRCA and started riding saddle bronc horses professionally. His birthday was on March 12 and the very next weekend he competed in Goliad, Texas, and El Paso, Ark., winning the saddle bronc riding at both events and filling his permit. He also won the bull riding in Arkansas and the rodeo's all-around championship.
Then Ryder headed to Lubbock, Texas, for the ABC Pro Rodeo where again he won the saddle bronc riding title. Then he tied for the win at the Pioneer Days Rodeo in Guymon, Okla., in May and had moved into the top 40 in the world standings.
When Ryder got his membership, he set a goal of earning the saddle bronc riding rookie title as well as qualifying for the Wrangler National Finals Rodeo. He accomplished both of those and now enters his first NFR in 14th place with $70,604 and he didn't even get to compete in any of the big lucrative winter rodeos.
Ryder has the distinction of being the youngest competitor at this year's NFR. He will be 18-years, 8-months, and 19=days old when he nods his head for the first time in the Thomas and Mack Center Arena.
While it is the first time he has been competing for rodeo's championship he has spent the first of December in Las Vegas for the last 13 years. His father Cody Wright had 12 consecutive qualifications and just missed the 2015 NFR. The family was still on hand to watch Ryder's older brother Rusty who was competing for the first time.
These three have been traveling together for most of this year and they will be behind the chutes and watching each other compete in Las Vegas. Rusty is in third place and Cody is in 11th.
Ryder took time out of his busy professional rodeo schedule to compete at his final National High School Rodeo Finals in Gillette, Wyo., last July. He has two younger brothers, Stetson and Statler, that compete as well. And the family is rounded out by the youngest member of the family, Lily Jo.