Tyrel Larsen – Inglis, Manitoba
1-time WNFR qualifier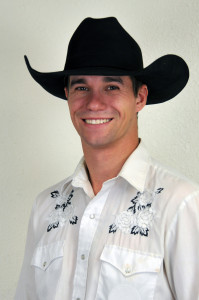 Alongside fellow first-time qualifier Zeke Thurston, Canadian cowboy Tyrel Larsen is helping to add a little international flare to the saddle bronc riding at this year's Wrangler National Finals Rodeo.
Larsen joined the PRCA in 2010 and is now getting his due with his first qualification. He came close in 2013 when he finished 16th in the world standings.
Even though it came down to the wire this year, Tyrel will be relishing the opportunity to emerge from the yellow bucking chutes at the Thomas & Mack. Tyrel has had a good season in 2015, and the home-country crowd was on his side for three of his big rodeo wins in Alberta at the Grande Prairie Stompede, Lea Park Rodeo and the Medicine Hat Stampede.
Outside of his pro rodeo career, Tyrel made yearly trips to the College National Finals Rodeo competing for Oklahoma Panhandle State University (OPSU) where he obtained his bachelor's degree in business. Moving to Goodwell, Okla., for college was life changing. While in school he met Chaney, the daughter of nine-time WNFR saddle bronc rider, Craig Latham, who was Tyrel's rodeo coach. Tyrel and Chaney were married just this fall in Oklahoma.
On top of rodeoing, commuting between two countries, getting married and buying a house, Tyrel also obtained his master's degree in business from Southwestern Oklahoma State University. It's clear that he is a hard worker, and his dedication is paying off. He also has his former rodeo coach, and now father-in-law, Craig Latham in his corner.
Down behind the chutes, Tyrel will also have his brother Orin, a first-time WNFR qualifier in the bareback riding by his side. The brothers have both made getting their educations a priority and have come through the ranks of college rodeo. Orin transferred from the College of Southern Idaho to OPSU. Tyrel won the saddle bronc riding at the College National Finals Rodeo in 2012. Orin won the bareback riding in 2013 and 2014. They are the first rodeo contestants to qualify for the WNFR from Manitoba and either one would be happy to be the first Manitoban to win a world championship.