Blake Knowles – Heppner, Ore.
3-time WNFR qualifier
2-time RNCFR qualifier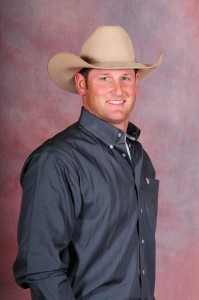 Growing up with a father who is a Wrangler National Finals Rodeo saddle bronc rider, it was only natural that Blake Knowles wanted to do the same.
Dad, Butch, had other things to say about that. He wanted Blake and his brother Brian to try all of the events, learn and then decide what they wanted to do. Brian competes in rodeos for a hobby, but he gravitated to a stay-at-home ranch job.
Blake took up steer wrestling and has made the sacrifices to have the success to qualify for his third Wrangler National Finals Rodeo (WNFR). It didn't come the way he wanted it to however. His first qualification came in 2009. He was back in 2011 and just missed it in 2013 finishing 18th in the world standings. With this being the odd year, it seemed that another WNFR qualification was in the bag.
He was fifth in the world standings the first of August with just two months left in the season. Those two months feature a lot of big paying rodeos and Blake watched as the guys behind him won checks and he slipped down in the standings.
He still won checks totaling $11,492. That was barely enough. Blake held on to the 15th spot holding off Bray Arms by a mere $166.
Blake was holding off drama outside of the arena as well. He and his wife Whitney were expecting their first child. Lydia came into the world two months early on August 30th. Lydia spent the last two months of the rodeo season in the NICU unit at the Kadlec Regional Medical Center in Richland, Wash.
Lydia is home now and the family has been busy doing fall cattle work and getting ready for a big appearance in Las Vegas this year. Not only will they be cheering on Blake, they are also rooting for Trevor who is Blake's cousin.