Luke Branquinho – Los Alamos, Calif.
5-time World Champion
14-time WNFR qualifier
2-time RNCFR Champion
8-time RNCFR qualifier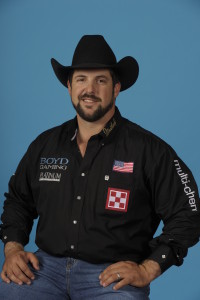 There is little doubt that Luke Branquinho will be inducted into the ProRodeo Hall of Fame and will be considered one of the legends of the sport.
Luke has five gold buckles in his collection, one less than the steer wrestling record holder Homer Pettigrew who dominated the event for more than a decade in the 1940s. Luke's career has already spanned over 15 years. He joined the PRCA in 2000 and one year later qualified for his first Wrangler National Finals Rodeo (WNFR). He's only missed one year since then, in 2005 because of a torn pectoral muscle.
That was just one of several injuries that have impacted his career. In July of 2014 he tore his back muscle and missed the rest of the season, coming back at the WNFR and leaving with his fifth gold buckle.
This year, he was in Logandale, Nev., and dislocated his shoulder on April 8th. He came back in Santa Maria, Calif., the end of May and won the rodeo. It was the second consecutive win at the Elks Rodeo which is just 20 miles from his hometown. It will always be special to him because his family can go with him. This past year his oldest son Cade won a buckle in the six-and-under barrel race.
Along with Cade, who is now seven, Luke and his wife Lindsay have two more boys, Jameson, five and Luke Hayes who was born two days before Luke's birthday last September.
They will all be cheering for him this year. Throughout his previous 13 WNFR competitions, Luke has won $911,295. Don't be surprised if he surpasses a million dollars in Las Vegas this year and leaves with his sixth gold buckle.