Matt Reeves – Cross Plains, Texas
6-time WNFR qualifier
3-time RNCFR qualifier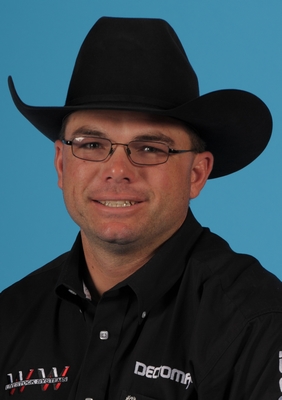 The first time that Matt Reeves qualified for the Wrangler National Finals Rodeo (NFR) in 2007, he had never won a trophy buckle at a PRCA rodeo.
That changed when he won a round there and he has been collecting buckles and trophies ever since. Matt is making his sixth trip to Las Vegas to compete at this year's NFR. Through the past nine years, he has collected nearly as many injuries as he has trophies.
At the 2012 NFR, he sprained his knee during the first performance and it just went from bad to worse. That knee required surgery. He has had torn abdominal and pectoral muscles, problems with hips, pelvis, elbows and thumbs. He had surgery again in October of 2014 to repair a sports hernia and other damage from a broken pelvis. Through it all, he manages to come back and compete at the highest level.
In spite of having Type 1 diabetes and depending on an insulin pump, Matt is healthy now and more than ready to be back at the NFR. The last time he competed in Las Vegas was 2013. He enters this year's competition in 12th place with regular season earnings of $62,402.
Matt started this year off with a big win at the Fort Worth Stock Show & Rodeo in February. It was a little sentimental for the native Texan. He earned $15,207 there.
Matt has his bachelor's degree in animal science from Texas A & M University. He grew up showing livestock and much of his education was paid for with those pursuits.
A documentary film, American Rodeo: A Cowboy Christmas, that features Matt and his traveling partners was released lasts May. A crew followed them for two weeks surrounding the Fourth-of-July rodeos in 2009.
A big life-changing event happened to Matt last November when his wife, Savanah, gave birth to their son, Carson. Carson and Savanah have been traveling with Matt every chance they get. Savanah is a nurse at Coleman County Medical Center so will be taking vacation to watch Matt in action in Las Vegas.