Tanner Milan – Cochrane, Alberta
1-time WNFR qualifier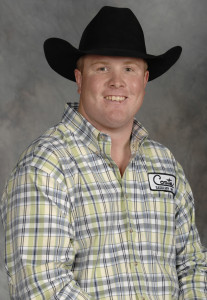 Tanner Milan will be making his runs at this year's Wrangler National Finals Rodeo with a lot of support, from the Canadian fans in the stands, his family, and the braces that keep his knees intact.
After 12 years of membership in the PRCA, this Canadian champion is headed to his first Wrangler National Finals Rodeo (WNFR) and his ninth Canadian Finals Rodeo. In 2010, he was at the rodeo in Ponoka, Alberta when less than ideal ground conditions caused his feet to stick in the mud when he came off of the horse. His toes were in the mud and his body was twisted around them. The result was a torn MCL that took him out of action for an extended period of time.
A similar thing happened this year in Ponoka, but the result was much better with just a hyperextended MCL. Ice, tape, braces and pain pills and he was able to compete the next day.
Just a year ago at the Canadian Finals Rodeo, he was walking in the alley behind a horse that was tied up. The horse kicked and hit both of Tanner's knees. He went ahead and threw his steer and headed directly to the sports medicine room.
Playing with pain, he earned his second Canadian Championship in Edmonton. He will compete there again this year prior to the WNFR in hopes of adding another one. Tanner has two brothers that are also steer wrestlers. His older brother Baille was the PRCA steer wrestling rookie in 2010.Younger brother Straws competed at the 2013 WNFR.
Tanner has kept busy between rodeos with his own ranching enterprise where he raises :Longhorn cattle. While it's not the usual breed to be involved with in Canada, for him it makes perfect sense. They can't import Corriente cattle to Canada, so they use Longhorns. He can supply cattle for the rodeos and have plenty of steers to practice on.