Ty Erickson – Helena, Mont.
3-time WNFR qualifier
2-time RNCFR qualifier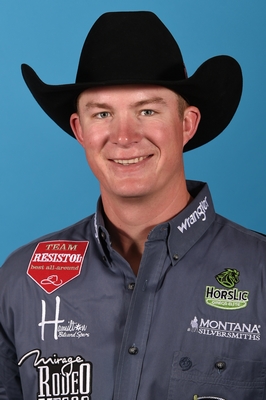 At 6'5" tall and 240 pounds, it would seem that Ty Erickson was born to be a steer wrestler.
With three Wrangler National Finals Rodeo (NFR) qualifications to his credit, he definitely is among the best. It is surprising to learn that the Helena, Mont., native didn't even attempt to throw a steer down until he was a junior in high school.
His dad is a veterinarian and gym teacher and his mom teaches health and physical education, so it is no surprise that Ty is very athletic and is serious about being in shape and staying healthy. He played basketball in high school and was named first-team all-state as a senior.
While he was playing other sports the dream of an NFR qualification that started when he was a child was building. His mother qualified for the College National Finals Rodeo (CNFR) in barrel racing. Ty was team roping and steer wrestling, so college was the next logical step.
He qualified for the CNFR all four years he was at Montana State University. Then he joined the PRCA in 2011 and won the rookie title in steer wrestling. In 2013, he qualified for his first NFR, and finished seventh in the world standings.
Last year, he placed in seven rounds at the NFR, finished fourth in the average and won over $100,000 in Vegas. He finished the season in fourth place as well. His horse, Montana Shakem was also recognized as the AQHA Steer Wrestling Horse of the Year in 2015.
With Shakem underneath him and leading the world standings at this year's NFR, there is little doubt that he is going to win a big piece of the purse in December. Whether he remains in the number one spot remains to be seen. He enters the competition with $92,942 in regular season earnings. Ty would be the first Montanan to win a gold buckle in steer wrestling since the legendary Bill Linderman won his in 1950.