Aaron Tsinigine – Tuba City, Ariz.
2-Time WNFR Qualifier
1-Time RNCFR Qualifier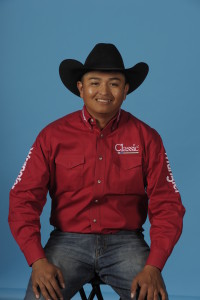 Aaron Tsinigine just turned 29, and the Arizona cowboy is making his way back to the Thomas & Mack for the second time in the fifth position with over $83,000 won.
He'll be partnering with Ryan Motes. Ryan was Aaron's partner last season too, but missed making the WNFR with Aaron by a slim margin. So, he got to rope with none other than Clay O'Brien Cooper. They won round six, placed in the average and their total earnings brought Aaron from 14th place to third in the world standings.
It was Ryan, and of course Aaron's horse Smudge, that Aaron credits with helping him to qualify for his first WNFR. With his success in the Thomas and Mack Center last year and Ryan at the heels this year, this duo expects big things. They've already won Greeley, Colorado, Cody, Wyoming and Lynden, Washington together this year.
Like his buddies Erich Rogers and Derrick Begay, Aaron is from the Navajo Nation and a town called Tuba City. He grew up playing basketball, the biggest sport in their area, as Erich has reported. But directly behind basketball in popularity is the sport of rodeo, and Aaron took up a rope naturally. He graduated high school in 2005 and became a member of the PRCA in 2007. He has an Indian National Finals Rodeo world title with Erich Rogers from 2010 and multiple rodeo wins that have earned him the nickname of Spinigine.
As good friends, and a force to be reckoned with in professional rodeo, these Native Americans have honed their skills together, helping inspire each other, as well as their entire Navajo community. Aaron took second, only behind Erich Rogers, this year at the famed Bob Feist Invitational. Derrick Begay was fourth, so it will be quite interesting to see how the trio will fair in Las Vegas.