Brandon Beers – Powell Butte, Ore.
Team Roping – Heading
4-Time WNFR Qualifier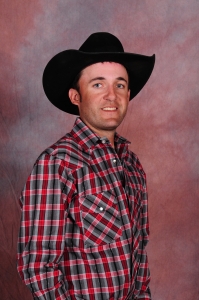 Although it's sometimes over-shadowed by the feats of his famous team-roping father, Brandon Beers' career to date has become impressive in its own right.
His father, Mike Beers, roped at the Wrangler NFR a staggering 24 times and won the 1984 world championship before Brandon. Fans watched sentimentally as 18-year-old Brandon began roping with his father in 2005. Just two years later, the pair won RodeoHouston and qualified together for Brandon's first WNFR.
Later, Brandon teamed with another son of a world champion – Ryan Motes – and in 2011 yet another, Jim Ross Cooper, with whom he made a second trip to the WNFR. But it's only been since reconnecting with Cooper last year that Beers has stepped up as an elite header.
Remarkably, the second-generation ropers have put on spectacular performances each July and August in what their peers have been calling an annual "beatdown." This time, in the span of six weeks this summer, they won $40,000. That included first-place checks at Cody, Wyo.; at Nampa and Caldwell, Idaho; and at the Daddy of 'em All in Cheyenne, Wyo.
In addition to having earned $600,000 in his decade as a professional, 28-year-old Beers this year became only the second header in history to have owned two different horses chosen as Horse of the Year in the PRCA. Beers' bay mare, Jewel, and his black gelding, Tevo, have swept the past two awards. Former world champion Bobby Hurley, in the 1990s, is the only other cowboy to have had two head horses thus honored.