Coleman Proctor – Pryor, Okla.
3-time WNFR qualifier
3-time RNCFR qualifier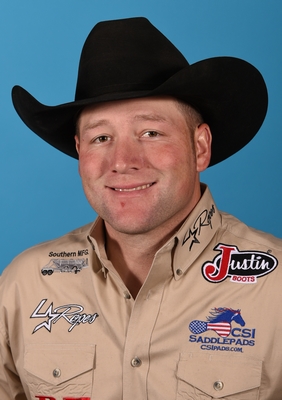 Transition could be Coleman Proctor's theme for 2016. He transitioned out of a long-term team roping partnership with Jake Long and reuniting with Billie Jack Saebens who he had roped with in 2014. His girlfriend of eight years, Stephanie Arnold, became his wife in May.
While there have been changes, a lot has remained the same. Jake still remains his best friend and was in the wedding. Coleman is still one of the best headers in the PRCA and is making his third trip to Las Vegas to compete for a world title.
And, once again it was a last-minute effort that put him inside the top 15 in the world standings. He started the 2015 Wrangler National Finals Rodeo (NFR) in 13th place. This year he is in 15th place with $62,024 won during the regular season. He edged out Billy Bob Brown by $2,185 for the final qualifying spot.
Vegas has been good to the 30-year-old header. His first qualification saw he and Jake finishing in fourth place in the average and fourth in the world. Last year, they did even better. Finishing in a tie for round five, placing in three others and being second in the average earned Coleman a cool $120,212. He finished the season in sixth place.
Coleman's experience and success at the NFR will come in handy. This will be his heeler's first trip to Vegas so it is likely that Billie Jack will depend on that experience. And while will be their first time to rope together in the Thomas and Mack, they have had a lot of success together. They are two-time winners of the RAM Prairie Circuit Finals.
And, even though they aren't roping together, Coleman and Jake will be cheering for each other from the sidelines at this year's NFR. Jake will be heeling for Luke Brown. Their friendship started when their fathers roped together and has stood the test of time and team roping breakups.