Garrett Rogers – Baker City, Ore.
1-time WNFR qualifier
1-time RNCFR qualifier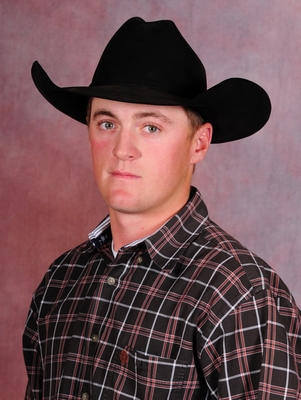 Garrett Rogers will have a lot to celebrate at the 2016 Wrangler National Finals Rodeo. The Baker City, Ore., is making his first trip to Las Vegas to compete at rodeo's championships. And, just four days before he makes his first run at the Thomas and Mack Center, he will be celebrating his 24th birthday.
It has been a very eventful year for the Baker City, Ore., cowboy. In spite of putting thousands of miles on in his quest to qualify for the NFR, he found time last April to get married to his fiancée Chancey. The couple has a daughter, Remmy and she is likely to be the next generation of Rogers competing in the rodeo arena.
Garrett followed in the footsteps of his father and mother, roping anything and everything he could from the time he could carry a rope around. His parents roped together, his mom doing the heading and dad heeling.
When Garrett started competing, it was as a heeler. Spending time with Darrel Sewell, an NFR qualifier in the steer wrestling in 1974 and 75, helped him a lot. He broke in steers for Darrel and used that as an opportunity to learn more about cattle and horsemanship. He continued to heel in his first year of membership in the PRCA in the Columbia River Circuit.
Switching to heading in 2014, one year after joining the PRCA has been a good decision for Garrett. Roping with Jake Minor from Ellensburg, Wash., he has finished ninth in the regular season with $72,937 in earnings.
Garrett's sister Kylee also ropes and competed in high school and college. The family of ropers will be moving from the back of a horse to the spectator seats for 10 nights in Vegas.