Jake Cooper – Monument, N.M.
2-Time WNFR Qualifier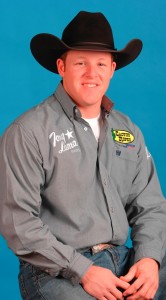 For the first time since 2007, Jake Cooper is back at the Wrangler National Finals Rodeo (WNFR) as a competitor.
At just 31 years old, this likely won't be the last time we see him either. The last four years in the team roping he's finished 27th, 28th and 29th in the standings respectively, but this year he comes in sixth with $80,933 won already. He'll be pairing with Russell Cardoza at the WNFR, but Jake took home 2015 wins at California Rodeo Salinas with heeler, Tyler McKnight and a win at the Wrangler Champions Challenge Finale at Omaha with Kollin VonAhn.
Tyler, who has roped most of the season with Jake, finished 17th in the world standings, narrowly missing this year's WNFR. So Russell, whose partner, Bubba Buckaloo, also did not finish in the top 15, will take up the heeling position alongside Jake and the two with reputable wins on each of their resumes will be a duo to watch in each round of the WNFR.
The cowboy code is in Jake's blood. His father, Jimmie Cooper, is a 2005 Pro Rodeo Hall of Fame inductee and former world champion All-Around Cowboy. There's something interesting about Jake to mention — he's a twin. And that means, this particular cowboy is used to working on a team.
Not only are Jake and his brother Jim Ross accustomed to sharing daily life, they're comfortable sharing the arena. The Cooper brothers were the 2004 Rookies of the Year in team roping and actually became the first set of team-roping twins to qualify to the WNFR. That was in 2007.
Jake has been a spectator four times since then cheering for his brother. This year, the table has turned and Jim Ross, who finished 20th in the world standings, will be in the stands.