Kaleb Driggers – Albany, Ga.
5-time WNFR qualifier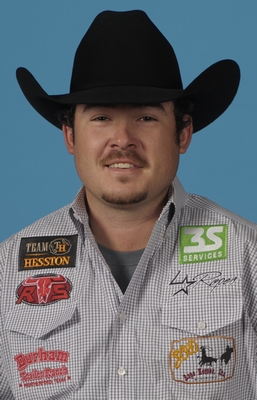 After missing the Wrangler National Finals Rodeo and finishing 33rd in the world in 2015, Kaleb Driggers has come back with a vengeance in 2016.
The 26-year-old team roping header from Albany, Ga., has been heading for Brazilian Junior Nogueira and the pair put together an impressive string of victories, winning a dozen rodeos outright and sharing the title at four others. Kaleb comes into the 2016 NFR in first place in the world standings with $122,341 in regular-season earnings, almost $15,000 ahead of second-place Clay Smith of Broken Bow, Okla.
It's not the first time Kaleb, who now lives in Stephenville, Texas, has been in a strong position to win a Gold Buckle. In 2011, he helped then-partner Jade Corkill of Fallon, Nev., win the first of his three consecutive world championships. Kaleb finished $1,211 behind Chad Masters in the final standings that year.
Kaleb finished fourth in the final world standings in 2013 roping with Travis Graves and seventh in 2014 while roping with Patrick Smith.This year's wins with Junior include the Justin Boots Playoff in Puyallup, Wash.; Spanish Fork, Utah; St. Paul, Ore.; Garden City, Kan.; Medford, Wis.; Eugene, Ore.; Abilene, Texas; Pasadena, Texas; Hugo, Okla.; Grace, Idaho; Cherokee, Iowa and Billings, Mont. They were also co-champions at Oakley City, Utah; Pleasant Grove, Utah, Filer, Idaho and Livingston, Mont.
A strong Fourth of July run set Kaleb and Junior on their way to the top of the standings. They placed at seven rodeos during Cowboy Christmas to earn $22,884, the most of any team ropers.
Kaleb started his PRCA roping career with veteran and longtime family friend Brad Culpepper and promptly won the Rookie of the Year overall and team roping header titles in 2009, narrowly missing qualifying for the NFR that year as he finished in 16th place.