Luke Brown – Stephenville, Texas
9-time WNFR qualifier
3-time RNCFR qualifier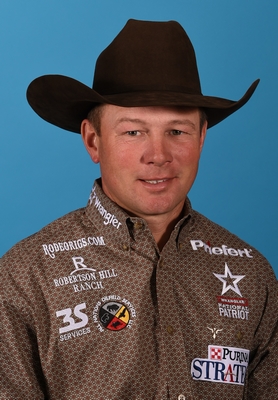 There's just something special about the Wrangler National Finals Rodeo and the Thomas & Mack Center for Luke Brown.
The veteran team roping header, who was born and raised in South Carolina but now lives in Stephenville, Texas, has won the average at the NFR three times, including last year with Kollin VonAhn, placed second twice, and he's been knocking on the door of a world championship since 2008.
Luke finished last season as the reserve world champion with $224,987 in earnings – including a whopping $152,577 won at the NFR as he and Kollin won one round and placed in five others. He finished less than $3,000 behind Aaron Tsinigine for the world title.
The 42-year-old Luke joined the PRCA in 1998, but credits the second half of the 2007 season, when he roped with four-time world champion heeler Allen Bach, as a turning point in his career. He qualified for his first NFR in 2008 (the first cowboy from South Carolina to do so in 31 years) and won the average with Jade Corkill despite the fact the pair had never roped together prior to the event.
Luke also won the average in 2010 with Martin Lucero and again in 2013 with Kollin.
Roping this season with Jake Long, Luke has been on a roll, earning $104,839 during the regular season. He comes into the NFR in third place in the world standings, less than $3,000 behind second-place Clay Smith. Luke and Jake won nine rodeos outright (Sheridan, Wyo.; Rapid City, S.D.; Kennewick, Wash.; Baker, Mont.; Bremerton, Wash.; Fort Herriman, Utah; Cody, Wyo.; Lovington, N.M.; and Coffeyville, Kan.) and shared the title at Livingston, Mont.
The pair just missed having the most lucrative Cowboy Christmas among team ropers, winning $22,026 during the Fourth of July run, second only to world standings leaders Kaleb Driggers and Junior Nogueira, who finished about $800 ahead.