Matt Sherwood – Pima, Ariz.
5-time WNFR qualifier
3-time RNCFR qualifier
2-time World Champion header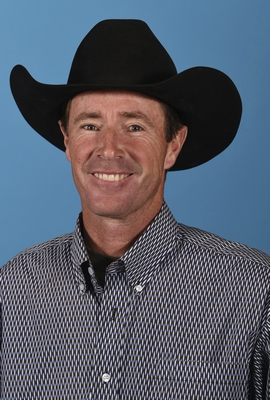 Matt Sherwood has competed at the Wrangler National Finals Rodeo (NFR) four times and half of those he's left Las Vegas as the world champion header.
This year he's entering his fifth and is roping with an NFR rookie, Quinn Kesler from Holden, Utah. They roped together all of last year and while Matt qualified for the NFR, Quinn was on spot out at 16th. Matt roped in Las Vegas with Travis Woodard and while it wasn't the finals that either one of them had hoped for, they still won $21,000.
This year he and Quinn had more success during the regular season and will be roping together at the Thomas and Mack Center. Matt enters in 11th place with $68,849. He joined the PRCA in 1994, just one year after Quinn was born. Their relationship could be more like father and son, but obviously the team work is successful.
Matt's roping career was limited to weekends and local events for years. He owned a flooring business in Queen Creek, Ariz. After 10 years, he sold it to pursue a full-time roping career. That was 10 years ago and he and his family have never looked back.
He is a family man that takes every opportunity he can get to spend time with them. He and his wife, Kim, have seven children. They welcomed their first grandchild into the world this year. Matt loves to rope with all of his kids and many of them have had success in the arena.
Matt's love of roping is evident in his success. He likes to share that, not just with his family, but through schools as well. His willingness to teach others and love of kids and roping is creating a lifetime of memories for him, the family, friends and his fans.