Jake Long – Coffeyville, Kan.
6-time WNFR qualifier
2-time RNCFR qualifier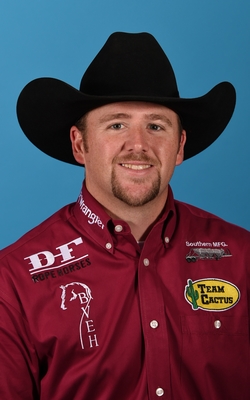 Jake Long grew up on the back of a horse and with a rope in his hand, the son of a Kansas rancher.
But that doesn't guarantee success in the rodeo arena. There has been a lot of hard work, practice and dedication along the way, qualities that come with being a rancher's son. It helped that his dad also roped for fun. All of that has served the six-time Wrangler National Finals Rodeo (NFR) well as he has had the best regular season of his career.
Jake has been roping with header Luke Brown this year. They have been among the most consistent of teams with wins at nine rodeos, including a sentimental one at Jake's hometown of Coffeyville. Jake enters the 2016 NFR in third place with $101,495 won during the regular season.
This is the first year that he and Luke have roped together. His first NFR qualification came with Montana's Brady Tryan. The next two, he qualified roping with Brady's older brother Travis. Then Jake was roping with one of his best friends Coleman Proctor at the next two. This is Luke's ninth qualification and the duo is favored to collect a big portion of the prize money this year.
Jake and his wife both got their bachelor's degrees at Northwestern Oklahoma State University in Alva. This daddy has two little girls that he counts as blessings. A big blessing for the whole family came this year when Zans Colonel Shine was selected as the PRCA/AQHA heeling horse of the year. Colonel has contributed to Jake's success in the arena, but outside he is like a member of the family.