Jim Ross Cooper – Monument, N.M.
Team Roping – Heeling
5-Time WNFR Qualifier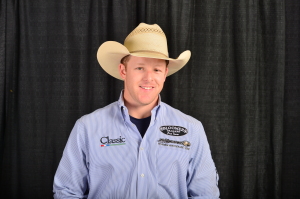 Lots of older rodeo fans love watching Cooper, 30, and his partner Brandon Beers shoot for fame and glory as the sons of 1980s-era world champions Jimmie Cooper and Mike Beers. Making their quest even more fun is the fact they've been friends forever.
Jim Ross has an identical brother, Jake Cooper, with whom he became the 2004 Rookie of the Year. After just three years in the big leagues, the pair of redheaded cowboys became the first set of twins to rope together at the WNFR. They finished 15th that year and then missed rodeo's Super Bowl the following three years.
It was with Beers that Jim Ross made it back to Las Vegas in 2011. He then returned with Charly Crawford in 2012 before reuniting with Beers for an eighth-place finish last year. Throughout his career, Jim Ross has also become known for his stellar tie-down roping skills (he won that event at the Pendleton Round-Up in 2010), and for riding excellent horses.
This season for the second time in a row, Cooper and Beers were spectacular in July and August, earning $40,000 in six weeks including making an emotional victory lap at the Daddy of 'em All in Cheyenne, Wyo. Cooper accomplished that feat after purchasing the highest-earning heel horse in rodeo. The horse, Jackyl, is well into his 20s and has already earned nearly $2 million – plus multiple WNFR average titles and gold buckles. He could be Cooper's ace in the hole in Las Vegas.