Rich Skelton – Llano, Texas
8-time World Champion
22-time WNFR qualifier
1-time WNFR average champion
3-time RNCFR champion
12-time RNCFR qualifier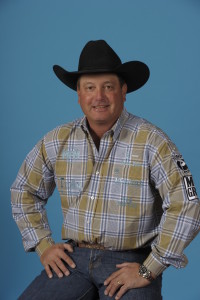 To say that Rich Skelton's team roping career has been remarkable would be an understatement.
He is closing in on $3 million in earnings in the PRCA, has a record eight consecutive world titles in the heeling category, has qualified for the Clem McSpadden National Finals Steer Roping and the list goes on and on and on. Rich won those eight titles with Speed Williams and there is little doubt that they are future hall of famers.
Rich has made the trip to Las Vegas the last two years roping with the 2009 world champion header, Nick Sartain. They are still roping together and because of this Rich has an opportunity to add another record to his rodeo resume. He could be the only man alive to win 9 world championships in team roping.
It's not out of the question even though he enters the field in 11th place and is $60,000 behind Jade Corkill. First place in the average pays $67,269. In all of his trips to Las Vegas, Rich has only won the average one time, in 2001. But never count him out.
This year has been an eventful one outside of the arena for Rich. In May, he was involved in an multi-vehicle accident near his home at Llano. He was driving a tractor that was hit by a passenger car. The tractor rolled onto its side and Rich was ejected out of the canopy.
He was airlifted to an Austin hospital where he was treated for bruised internal organs. The situation could have been much worse. He was back in the saddle at the Reno Rodeo where he and Nick were second in the first round and placed in the average.
Being in a life-threatening accident barely slowed Rich down and it certainly didn't keep him away from the sport he loves for long. Rich and his wife Rhonda have one daughter, Rainey who at 11-years-old is becoming quite the rodeo athlete in her own right.