Tyson Durfey – Savannah, Mo.
9-time WNFR qualifier
4-time RNCFR qualifier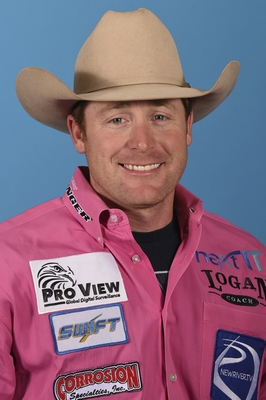 It's rare to see Tyson Durfey without a smile on his face. A veteran tie-down roper, his love of the sport comes through every time he rides into the arena. However, for him, what happens outside of the arena is even more important.
Tyson joined the PRCA in 2003 and qualified for his first of nine Wrangler National Finals Rodeos (NFR) in 2007. He has finished as high as third in the world standings and has amassed more than one million dollars roping in the PRCA.
He missed the 2012 NFR by three spots and was determined to make it back in 2013. He did and brought his new bride, Shea Fisher, to Las Vegas with him. He seems to be the clutch player that makes a last ditch effort to qualify and most of the time that works.
In 2014, he finished the regular season in 15th place. Last year he started the NFR in 14th and this year is in that same spot with $64,734 in earnings. In the final week of the 2016 season he was 17th, then a win at the Cowboy Capital of the World Rodeo in Stephenville, Texas, secured his trip to Vegas.
Outwardly it never seems to bother him to be on the bubble, but there is audible relief when he knows that he's made it. No matter what his circumstances are, he remains positive and shares that positivity with others on social media.
He and Shea added a daughter to their family this year and Tyson couldn't be a prouder daddy. Praise Royal was born on Sept. 1. Shea is originally from Australia and along with being a wife, a new mother, is a country singer. A professional highlight for the husband and wife came at the 2015 NFR.
Shea was the opening act for the third performance of the rodeo. Tyson got to watch her perform in the arena, then got ready for his own competition where he tied for the win and earned $23,481.
Through the ups and downs of life and rodeo, Tyson's smile is an ever-present reminder of how good life is. His family values, faith and resilience have proven to be inspirational. His life inside the arena has given him opportunities outside of the arena to touch people in ways that he never would have dreamed as a young boy growing up in Missouri just wanting to rope.