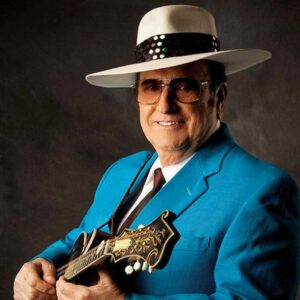 Noted Bluegrass musician and co-founder of the Osborne Brothers, Bobby Osborne died June 27, 2023. He was 91. Osborne was born on December 7, 1931, in Hyden, Kentucky and spent a lifetime fascinated by Country Music. In fact, Osborne ultimately dropped out of high school to join his brother Sonny in the hopes that the newly formed Country duo could possibly find their way to the stage of the Grand Ole Opry…and oh how they did.
The Osborne Brothers were eventually inducted into the legendary institution in August of 1964, after building a career on songs such as "Rocky Top," "Once More" and "The Kind of Woman I Got." Later in life, as a member of the Osborne Brothers, the mandolin maestro and Purple Heart recipient was inducted into the International Bluegrass Hall of Honor in 1994 and the Kentucky Music Hall of Fame in 2002. Osborne also spent much time teaching at the Kentucky School of Bluegrass and Traditional Music.
But thankfully, there was more music to come. Following his brother Sonny's retirement in 2005, Bobby began working as a solo artist and received much acclaim for his 2017 solo album Original, which received his first solo GRAMMY nomination for Best Bluegrass Album in 2018. He also enjoyed many years out on the road with his band the Rocky Top X-Press.
Courtesy of ACM