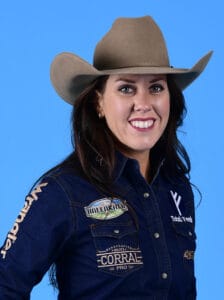 Name and Hometown: Nellie Miller – Cottonwood, Calif.
5-time Wrangler National Finals Rodeo Qualifier
2017 World Champion
Starting 2021 NFR in 8th place
Regular Season Earnings: $75,519
Joined WPRA: 2008
Major 2021 regular season wins –
• Clovis (California) Rodeo, $6,381
• West of the Pecos (Texas) Rodeo, $4,113
• Cheyenne (Wyoming) Frontier Days, $17,334
• Ellensburg (Washington) Rodeo, $5,786
• Pro Rodeo Tour Finale (Salinas, California), $17,901
Fun Facts about Nellie: Nellie was on the bubble for her fifth trip back to Las Vegas to compete at the WNFR. She finished 29th in 2020, so didn't qualify to compete at Globe Life Field in Texas. Then, she entered the Pro Rodeo Tour Finale in her home state of California at Salinas. She won the California Rodeo there in 2016 and with another win in 2021 in the arena, it cemented the fact that this is her favorite rodeo. Her win this year moved her from 16th to 8th in the world standings. Nellie met her husband, James, when she was a student at the University of Nevada – Las Vegas. They got married there. Her world championship in 2017 and most of her subsequent success has come aboard a home-raised and trained mare, Rafter W Minnie Reba. James is the general manager of the Red Bluff (California) Rodeo and the couple has two daughters.