Miss Rodeo America 2023 Pageant Judges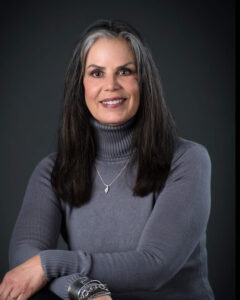 Tana Brinkman
From the Outdoor Rodeo Capital of Nebraska, Tana was raised on a hard-working rodeo family ranch. Growing up in a small community found her involved and competing in nearly all clubs, sports and activities. Her highly achieved academic and athletic talents rewarded her with innumerable honors, full-ride scholarships and starting positions on college volleyball and basketball teams. In 1979 she earned the title of Miss Rodeo Nebraska winning the Horsemanship, Appearance and Personality Categories in addition to topping the Speech and Written Test scores. She married Jim Brinkman and became part of the legendary Pitzer Ranch located in the Sandhills near Ericson. Tana qualified for the AQHA World Show in Team Roping, Working Cowhorse and has earned several AQHA High Point and Year End honors. Being raised with legendary JJJ Photo PRCA Photographer parents, she is an accomplished photographer. With this proficient talent, she has produced the photos and data for the Pitzer Ranch Horse and Bull Sale catalogs. Being business minded and a very driven individual, Tana has handled all Pitzer Ranch marketing and promotion, office management, plus cattle and horse paperwork. She helped design the annual HPI Ranch Horse Invitational, held in conjunction with their annual Fall Production Sale, which is one of the largest, highest paying and most competitive ranch horse competitions in the country. Tana and her husband Jim of over 40 years, are the parents of two children Sarah and Sam, whom with their spouses are also involved in their legendary Quarter Horse and Angus cattle operation. Increasing the diversity of Pitzer Ranch, in 2015 Tana created PRHP Boer Goats. She travels the states competitively showing and winning Ennoblements with her herd of American Boer Goats. She enjoys spending any available time sharing her immense talents with their three grandkids.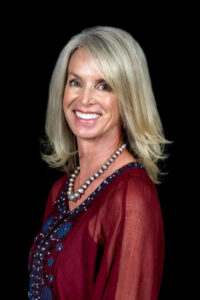 Brenda Pickett
Brenda Lee Bonogofsky Pickett was raised on a ranch in southwest North Dakota. Her family raised Simmental cattle and alfalfa hay on the bottoms of the Heart River. As a child, Brenda was active in 4H and gymkhanas. During her college years, Brenda competed in breakaway roping and barrel racing. While in college, she earned a NDRA state breakaway roping title. Brenda became the first Miss Rodeo North Dakota to win the coveted Miss Rodeo America crown in 1983, winning the personality division and placing top 10 in the horsemanship. Throughout the years, she has served as a consultant or judge for several state rodeo queen pageants. Brenda was inducted into the North Dakota Cowboy Hall of Fame in 2017. After earning a BA in Communications from the University of Colorado, she went on to earn a Master's Degree in Clinical Social Work. Brenda maintained a private practice in family therapy for over 20 years. Currently, she and her husband, former World Champion All-Around Cowboy Dee Pickett, own and operate a construction company that specializes in tension fabric indoor arenas- Western Specialty Structures. Brenda is also an avid golfer and carries a single digit handicap. Along with club championships she also is an IGA State Amateur Senior Champion. Brenda and Dee have three children and five grandchildren. They split their time between their homes in the mountains of Idaho and Cave Creek Arizona.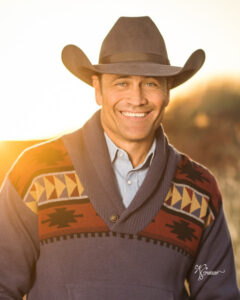 Stran Smith
In a career spanning 15 years in Pro Rodeo, 2008 World Champion Tie-Down roper, Stran Smith qualified for the Wrangler National Finals Rodeo 10 times. The fans loved Stran, voting him twice as the Coors Fans' Favorite at the WNFR. Sponsors recognized this and Smith quickly became a national pitchman for Wrangler, Ariat Boots, and many other western brands. Stran and his wife Jennifer, former Miss Rodeo America, were honored to be inducted into the Texas Cowboy Hall of Fame in 2021. As Stran's career has blossomed and evolved, so did his opportunity to be a light to many. Stran was instrumental in hosting Elevation Sunday, an inspirational service during the WNFR, for 15 years. Today, Stran is an inspirational speaker nationwide. Due to the response to his monthly article, Down the Line with Stran Smith, Stran has begun recording weekly "Tack Room Talks" where his goal is to use his experience, in and out of the arena, to encourage others. "I've never wanted my ability to take me somewhere that my character couldn't keep me." Stran and his wife, Jennifer, now raise Black Angus cattle on STS Ranch with their three children, Stone, Scout, and Selah. The Smith's partner with Carroll Leather in the ranchwear and handbag company, STS Ranchwear. The Smith's are excited to launch their new brand 1930 Remnant, through the very first STS Ranchwear Concept Store in Childress, Texas. You can follow their journey at 1930Remnant and STSRanch on all social media platforms.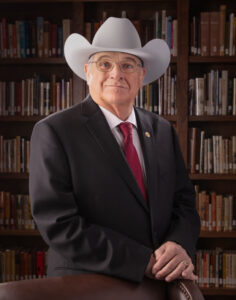 Stan Weaver
The Weaver family has a long history of working the land and raising cattle and horses, starting when four Weaver brothers came to the Montana Territory in 1887. The Weaver brand of A Standing X was recorded in 1888, one year before Montana became a state. Stan's grandchildren are the sixth generation of Weavers to ride horses with the family brand. Stan and his wife, Nancy, began the horse business in earnest when they purchased their first American Quarter Horse mare as a yearling in 1980. This grulla mare, Stormy Dun Dee, would go on to be one of the cornerstones of the entire horse program. Weaver Quarter Horses had their first annual production sale in 1996. Weaver Quarter Horses has sold through their annual production sale horses to all fifty states, Canada, Mexico, Australia, South Africa, Germany and Brazil. Weaver bred horses have gone on to be AQHA Champions, AQHA High Point Earners, Performance Register of Merit horses, PRCA Horse of the Year, and AQHA World Show and NFR Qualifiers. Stan judged the Miss Rodeo American Pageant in 2016. As the breeding operation grew, Stan also became more involved in the American Quarter Horses Association, as all the horses sold were registered with breeding going back to the great lineages. Stan served at the state level as president of the Montana Quarter Horse Association president, and also was appointed to several AQHA committees at the national level such as Ranching, Public Policy and the Hall of Fame. He became a National Director for the AQHA and was asked to run for the AQHA Executive Committee, a five-member committee that governs the decisions of the AQHA. The members are each appointed for five years and in their fifth year serve as AQHA president, a position Stan held in 2019-2020. While AQHA President, Stan worked with the AQHA to continue and strengthen the agreement with the PRCA to continue with the AQHA/PRCA Horse of the Year. Weaver Ranch has won many accolades including the AQHA Ranching Heritage Breeder of the Year in 2020 and most recently the 2021 Great Montana Ranches: A Ranching Family leaving their mark on Montana Rodeo and Western Heritage by the Montana Pro Rodeo Hall and Wall of Fame. Currently the Weaver Ranch runs 400 mother cows, six stallions and 90 broodmares. Stan Weaver and his family continue to be involved in all aspects of promoting the western lifestyle, rodeo and the versatility of the American Quarter Horse.
See more at Missrodeoamerica.com