U.S. Catfish Recipe of the Month: Cajun Catfish with Honey Dijon Bacon Potato Salad

Ingredients
• 4 U.S. Farm-Raised Catfish Fillets
• ½ cup fish breading
• 1 tablespoon Creole seasoning
• 1½ to 2 cups frying oil
Instructions
1. COMBINE fish breading and Creole seasoning in a shallow bowl. Coat catfish in breading, lightly shaking off any excess. In large skillet, HEAT oil over high heat. Fry catfish until golden brown, about 3 minutes per side.
2. PLACE on paper towel to drain.
3. SERVE immediately with Honey Dijon Bacon Potato Salad.
Honey Dijon Bacon Potato Salad
Ingredients
• 5 cups baby Yukon Gold potatoes, cooked and quartered
• 1 medium red onion, diced
• 1½ cups celery, diced
• 1 cup bacon, cooked, drained and chopped
• 2 tablespoons honey
• 2 tablespoons mayonnaise
• 1 tablespoon Dijon mustard
• 1 tablespoon Creole mustard
• 1 tablespoon fresh parsley, chopped
• Salt and pepper to taste
• Hot sauce to taste
Instructions
1. COMBINE all ingredients and mix well. ADJUST seasoning with salt, pepper and hot sauce.
2. COVER and refrigerate.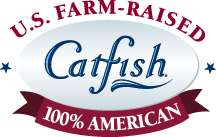 We would love to hear your thoughts after trying this one! I always check the label to make sure it's U.S. Farm-Raised Catfish and so should you. Enjoy 100% All-American!