U.S. Catfish Recipe of the Month: Pan-Seared Catfish on Black Olive Toast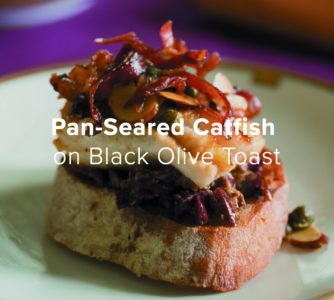 Ingredients
Black Olive Toast:
• 1 3.8-ounce can sliced ripe olives, drained and minced
• 1 1/2 teaspoons coarse mustard
• 1 1/2 teaspoons olive oil
• 4 1/2-inch thick slices French bread
Catfish
• 4 4- to 6-ounce U.S. Farm-Raised Catfish fillets, 1/2 inch thick
• 2 teaspoons olive oil
• 1 teaspoon hot sauce
• 1 tablespoon lemon juice
• 2 tablespoons butter
• 2 ounces prosciutto or country ham, julienned
• 1 tablespoon capers, rinsed and chopped
• 3 tablespoons sliced almonds, toasted
Instructions
1. To make Black Olive Toast: In a small bowl, mix together olives, mustard and olive oil. Set aside.
2. To make Catfish: Heat oven to 250° F. In a small bowl, stir together olive oil, hot sauce and lemon juice. Brush on both sides of catfish. Heat a nonstick skillet over medium high heat and add catfish fillets, two at a time. Cook about 4 to 5 minutes per side, or until brown, turning only once. Repeat with remaining catfish fillets. Transfer to a baking dish and keep warm in a 250°F oven.
3. Over medium heat, melt butter in the same skillet. When lightly brown, add prosciutto and sauté for about 1 minute. Remove from heat; add capers and almonds.
4. Just before serving, toast French bread and spread with black olive mixture. Place a piece of toast on each plate, top with catfish, and spoon over prosciutto-butter sauce. Makes 4 servings.
Notes:
Recipe developed by Elizabeth Terry, Elizabeth on 37th, Savannah, Ga.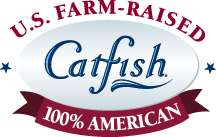 We would love to hear your thoughts after trying this one! I always check the label to make sure it's U.S. Farm-Raised Catfish and so should you. Enjoy 100% All-American!