U.S. Catfish Recipe of the Month: Blackened Catfish Caesar Salad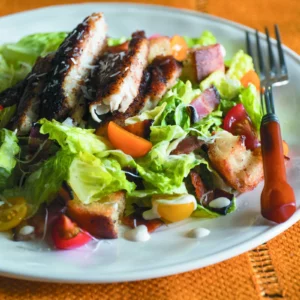 What you'll need:
• 4 U.S. Farm-Raised Catfish fillets
• 1 ½ tablespoons paprika
• 1 tablespoon garlic powder
• 1 tablespoon onion powder
• 1 tablespoon ground dried thyme
• 2 teaspoons salt
• 1 ½ teaspoons cayenne pepper
• 1 teaspoon ground black pepper
• 1 teaspoon dried basil
• 1 teaspoon dried oregano
• 1 teaspoon sugar
• ½ stick butter, softened
• 1 cup finely grated Parmesan cheese
• 2 romaine hearts, cut into bite-size pieces
• 2 cups croutons
How to prepare:
Combine dry ingredients in a shallow bowl to make blackening spice. Generously rub each fillet with butter, and coat heavily with blackening spice. Store remaining blackening spice for up to 3 weeks in an airtight container.
2. Heat a large cast-iron skillet over medium-high heat. Add seasoned fillets, skin side up, to skillet and cook for 10 to 12 minutes, or until seasoning begins to blacken but not burn. Turn each fillet and cook for an additional 3 minutes. Set aside to cool slightly; then slice. Place lettuce, croutons and Caesar dressing in a large bowl and toss.
3. Place ¼ of the salad mixture on a large plate, and top each with catfish slices and Parmesan cheese.