U.S. Catfish Recipe of the Month: Macadamia-Nut-Crusted Catfish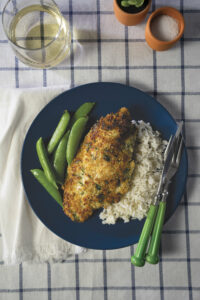 Ingredients
• 4 U.S. Farm-Raised Catfish fillets
• 2 cups macadamia nuts
• 1 cup panko bread crumbs
• 1 cup flour
• 1 teaspoon garlic powder
• 1 teaspoon onion powder
• 1⁄2 cup parsley, chopped
• 2 teaspoons salt
• 2 eggs, beaten
• 1/2 cup water
• 2 tablespoons olive oil
Instructions
1. PREHEAT oven to 375° F.
2. CHOP macadamia nuts in food processor; mix with panko.
3. MIX together flour, garlic powder, onion powder, parsley and salt.
4. In a separate bowl, MIX together beaten eggs and water.
5. DIP one catfish fillet in the flour mixture, and shake off excess flour; then dip into egg wash mixture, and coat with the macadamia/panko mix.
6. REPEAT process for the three remaining fillets.
7. OIL the bottom of a shallow baking pan, add crusted fillet to the pan and bake for 20 minutes or until golden brown.
We would love to hear your thoughts after trying this one! I always check the label to make sure it's U.S. Farm-Raised Catfish and so should you. Enjoy 100% All-American!