Richardson Conquers Woopaa for 94.5 Points to Win Round 1 in Tulsa
BY: Kacie Albert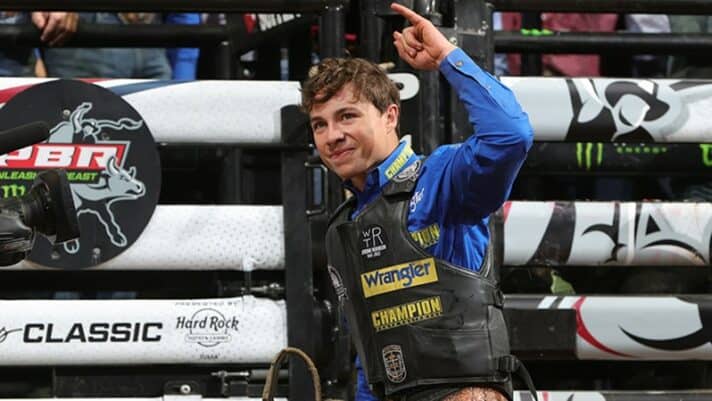 TULSA, Okla. – On the spurs of his second career PBR (Professional Bull Riders) Unleash The Beast event win last weekend, young gun Austin Richardson (Dallas, Texas) remained red hot in Tulsa Friday night by conquering reigning YETI PBR World Champion Bull Woopaa (Barker Bulls/Hookin' W Ranch) for 94.5 points — the second highest ride score of the season.
Richardson's monstrous score earned him the Round 1 win at the PBR Express Ranches Classic, presented by Hard Rock Hotel & Casino, allowing him to take sole ownership of the world No. 6 rank.
"Man, it's a feeling I can't even explain," the 22-year-old Texan said moments after covering the famed animal athlete. "I'm glad I got to cover him and get a bunch of points. I'm so blessed. I hope I can do the same thing tomorrow evening."
As one of the final riders to compete in Round 1 in the 18th consecutive premier series event in Tulsa, Richardson remained poised as the roar from the electric crowd began to build, knowing Woopaa had been part of the three highest scores in PBR history. As Woopaa erupted from the chutes, wildly kicking, Richardson matched the soaring bull jump-for-jump en route to a career-best 94.5-point score.
For Richardson, the matchup was familiar, and avenged a buckoff he suffered earlier in the season. Woopaa bested Richardson in their first showdown, sending him to the ground in 4.14 seconds this February in Oklahoma City.
Richardson's qualified ride in the Sooner State Friday earned him a crucial 29 world points, allowing him to break his tie with Jose Vitor Leme (Ribas do Rio Pardo, Brazil) for the world No. 6 rank.
With just two premier series events remaining following Tulsa prior to the 2022 PBR World Finals in Fort Worth, Texas, from May 13-22 at Dickies Arena, Richardson's golden finish inside BOK Center allowed him to hone within 319 points of the No. 1 position as he seeks his first gold buckle.
The out, however, was also significant in Woopaa's quest for his second PBR YETI World Champion Bull title.
Marked 46.25 points for his performance, Woopaa overtook Ridin Solo (Cord McCoy/Bill McCarty) for the No. 1 position in the standings. Now holding a 46.25-point world average, Woopaa leads No. 2 Ridin Solo by 0.04 points.
Atop the race for the 2022 PBR World Championship, veteran contender Joao Ricardo Vieira (Itatinga, Brazil) finished fourth to extend his lead atop the world rankings.
Vieira rode Mr. Personality (Southern Cross Bucking Bulls) for 87.75 points to net 16 world points.
After travelling to Tulsa with a 48.34-point lead, Vieira is now 64.34 points ahead of No. 2 Daylon Swearingen (Piffard, New York), who was bucked off by Skittles (Fire S Cattle/JWC Buckers) in a heartbreaking 7.09 seconds.dened
Chasing history in 2022, should Vieira earn his first gold buckle at season's end, he would become the oldest PBR World Champion in history. Currently 37, Vieira would surpass Adriano Moraes (Cachoeira Paulista, Brazil), who won his third title in 2006 at age 36.
While two-time PBR World Champion Leme may have slipped to No. 7 in the world rankings, he finished second in Round 1 of the PBR Express Ranches Classic, presented by Hard Rock Hotel & Casino.
Reaching the requisite 8 atop God Bless America (Hoefer/Berryman/Ogden/Hart) for 89.75 points, Leme netted 18 world points. Having yet to hold the world No. 1 rank in 2022, Leme is now within 330 points of the top position.
Should Leme once again be crowned the PBR World Champion in 2022, the stoic Brazilian would become the first rider in history to claim the honor in three consecutive seasons and just the third three-time PBR World Champion.
Third was Cody Teel (College Station, Texas), earning 17 world points and rising from No. 25 to No. 23 in the standings.
Snapping his 15-out buckoff streak, Teel dominated Kong (Coleman/Ogden/Hart) for 88.25 points.
Rounding out the Top 5 in fifth was leading Rookie of the Year contender Bob Mitchell (Steelville, Missouri).
The 19-year-old fan favorite covered Lil 2 Bit (Aduddell/Braindead) for 86.5 points to net 15 world points.
Only two other riders were successful in the opening round of competition from BOK Center.
Brady Fielder (Clermont, Queensland, Australia) was sixth, riding K1 (Nothin' But Try Ranch/Booth Bucking Bulls) for 86.25 points, and Dener Barbosa (Paulo de Faria, Brazil) rounded out the leaderboard in seventh after covering Lester Jr. (Universal Pro Rodeo/Pepper/Freeman/Cattle Co.) for 85.75 points.
Fielder's score earned him 14 world points, while Barbosa garnered 13 world points.
The evening also included the American Bucking Bull Inc. (ABBI) Classic Round that included 41 of the top 3- and 4-year-old up-and-coming bulls. An ABBI Classic competition is the next step in a young bovine's competitive career that involves bucking with a rider.
Blue Duck (Cord McCoy/Grin/Jacobson/Davis Rodeo Ranch) posted 93.2 points to win the ABBI Tulsa Classic Championship and collect more than $10,000.
Brutilizer (Guidry Land & Cattle/4G Ranch) placed second with 92.24 points for $6,078.75 while Brusta (Joe & Nina Webb/Julian/D&H Cattle) took a third-place finish with 90.72 points to earn $4,863.
Fourth place went to Sky Is The Limit (Halpain Bucking Bulls) with 90.32 points for just under $4,052.50.
2018 ABBI Cowgirl Futurity Champion Cool Whip (Julian/Staci Addison/D&H Cattle/Crooked W) notched a 90.08-point performance to round out the Top 5 in fifth for $4,863.
Action for the 2022 PBR Express Ranches Classic, presented by Hard Rock Hotel & Casino, will conclude with Round 2 and the championship round on Saturday, April 16. Action gets underway at 6:45 p.m. CDT.
PBR RidePass on Pluto TV will offer re-airs and on-demand replays of every PBR Unleash The Beast event. PBR RidePass is available on desktops, laptops and mobile devices via www.pluto.tv. Tune to channel 720 for the latest programming schedule, and click here for on-demand PBR programming.
PBR Unleash The Beast
PBR Express Ranches Classic, presented by Hard Rock Hotel & Casino
BOK Center – Tulsa, Oklahoma
Event Leaders (Round 1-Round 2-Round 3-Event Aggregate-Event Points)
1. Austin Richardson, 94.5-0-0-94.50-29 Points.
2. Jose Vitor Leme, 89.75-0-0-89.75-18 Points.
3. Cody Teel, 88.25-0-0-88.25-17 Points.
4. João Ricardo Vieira, 87.75-0-0-87.75-16 Points.
5. Bob Mitchell, 86.5-0-0-86.50-15 Points.
6. Brady Fielder, 86.25-0-0-86.25-14 Points.
7. Dener Barbosa, 85.75-0-0-85.75-13 Points.
Daylon Swearingen, 0-0-0-0.00
Kaique Pacheco, 0-0-0-0.00
Mauricio Gulla Moreira, 0-0-0-0.00
Dalton Kasel, 0-0-0-0.00
Luciano De Castro, 0-0-0-0.00
Chase Dougherty, 0-0-0-0.00
Derek Kolbaba, 0-0-0-0.00
Mason Taylor, 0-0-0-0.00
Eduardo Aparecido, 0-0-0-0.00
Eli Vastbinder, 0-0-0-0.00
Manoelito de Souza Junior, 0-0-0-0.00
Keyshawn Whitehorse, 0-0-0-0.00
Marcelo Procopio Pereira, 0-0-0-0.00
Matt Triplett, 0-0-0-0.00
Clayton Sellars, 0-0-0-0.00
Lucas Divino, 0-0-0-0.00
Rafael Henrique dos Santos, 0-0-0-0.00
João Henrique Lucas, 0-0-0-0.00
Claudio Montanha Jr., 0-0-0-0.00
Brady Oleson, 0-0-0-0.00
Ramon de Lima, 0-0-0-0.00
Andrew Alvidrez, 0-0-0-0.00
Ezekiel Mitchell, 0-0-0-0.00
Adriano Salgado, 0-0-0-0.00
Brandon Davis, 0-0-0-0.00
Conner Halverson, 0-0-0-0.00
Dakota Louis, 0-0-0-0.00
Alex Cardozo, 0-0-0-0.00
Casey Coulter, 0-0-0-0.00
Brennon Eldred, 0-0-0-0.00
Sam Woodall, 0-0-0-0.00
Wyatt Rogers, 0-0-0-0.00
Venn Johns, 0-0-0-0.00
© 2022 PBR Inc. All rights reserved