2018 World Finals Event Winner Eguchi to be Out 4 to 6 Weeks with Broken Foot
By: Justin Felisko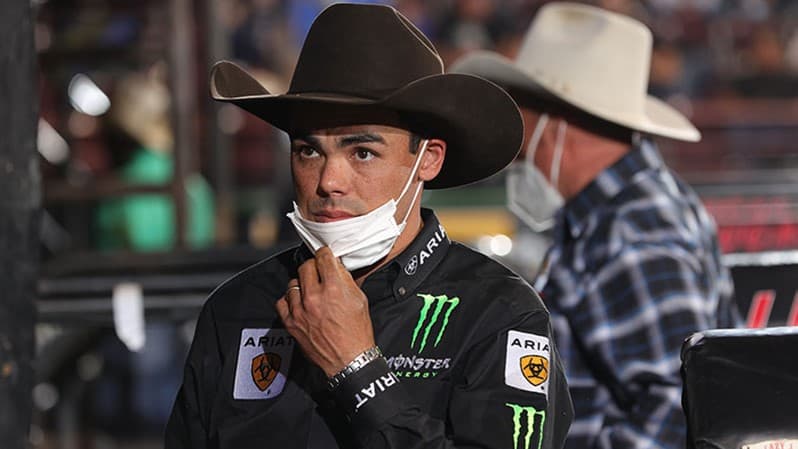 PUEBLO, Colo. – Two of the Top 10 bull riders in the world sustained injuries this past weekend at the Wrangler Long Live Cowboys Classic in Sacramento, California.
According to Dr. Tandy Freeman, 2018 World Finals event winner Marco Eguchi broke his right foot in Round 1 Friday night when Muscles bucked him off in 3.55 seconds.
Eguchi, the No. 7-ranked bull rider in the world, told PBR.com on Tuesday that he expects to be out of competition for at least four to six weeks. Eguchi elected not to undergo surgery and is optimistic his injury will heal naturally.
"Hopefully, it takes just four weeks," Eguchi said via text message. "I decided to not have the surgery. (Tandy) will see me again in two weeks. My broken foot should take four to six weeks to heal."
Eguchi is 1,123 points behind world No. 1 Jose Vitor Leme, and this injury will likely put a major damper on his chances of making a late-season push for the world title.

Meanwhile, world No. 6 Boudreaux Campbell looked ready to pursue a second consecutive event win in Sacramento after beginning his weekend with an 88-point ride on Safety Meeting in Round 1. However, Campbell would not be able to finish the event because of a concussion he sustained in the 15/15 Bucking Battle as Mr. Clean headbutted him at 3.11 seconds.
Campbell is now slated for a monster rematch about 2021 No. 1 YETI World Champion Bull contender Woopaa in the upcoming Bad Boy Mowers Mowdown 15/15 Bucking Battle in Little Rock, Arkansas, once he goes through the PBR's pre-event concussion protocol.
The No. 6-ranked bull rider in the world is 2-for-2 against Woopaa with an average score of 95.38 points.
The 15/15 Bucking Battle airs Sunday at 12:30 p.m. ET on CBS national television.
Coincidentally, Eguchi's injury opens a door for Rafael Henrique dos Santos to take on Born to Sin in the 15/15. Santos is returning to competition after injuring his ribs during his Touring Pro Division victory in Rocksprings, Texas, on June 25.
Follow Justin Felisko on Twitter @jfelisko
Photo courtesy of Andy Watson/Bull Stock Media
© 2021 PBR Inc. All rights reserved.