Barbosa Impressive at AT&T Stadium Despite Final Buckoff
By: Justin Felisko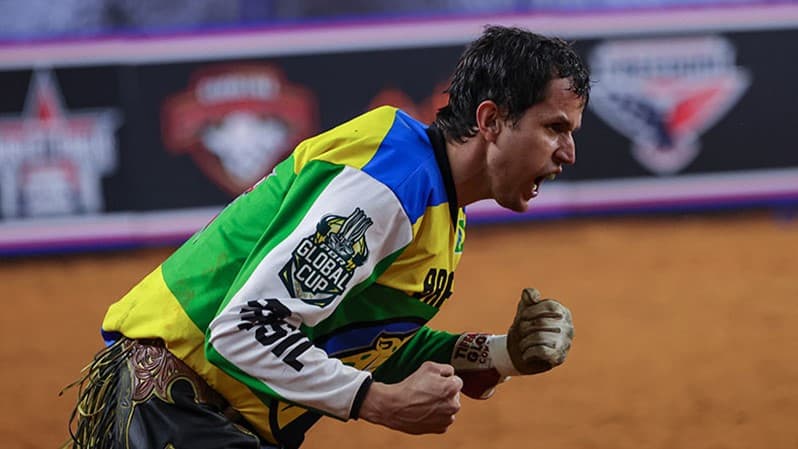 PUEBLO, Colo. – Plenty of eyebrows were raised when Team Brazil coach Robson Palermo decided to place Dener Barbosa on two bulls in the long rounds of the 2022 PBR Global Cup USA, presented by Monster Energy, instead of opting to use reigning two-time World Champion Jose Vitor Leme or 2018 World Champion Kaique Pacheco.
Team Brazil ultimately fell short of its goal, finishing runner-up and 93.25 points behind the winning Team USA Eagles, but it was not because of Barbosa.
In fact, Barbosa wound up being one of Brazil's strongest riders behind Pacheco, who would go 2-for-2 following his 90.5-point ride on Medicine Man in the Bonus Round.
Barbosa was the first rider to get Brazil on the scoreboard at AT&T Stadium when he just barely hung on to The Good Stuff for 84.5 points following a video review. Barbosa then kept Brazil's slim chances alive when he ended Round 2 with 86.75 points on Midnight Flyer.
The 27-year-old showed the stakes of the moment were not going to shake him, and he was happy to show Palermo's faith in him was merited.

"I am so happy to ride two bulls," Barbosa said with the help of Palermo translating at the end of Round 2. "The coach chose me, and I rode my bulls and did my job. I am so happy because if I bucked off this bull, everything is done. I rode my bull, made a great ride. I am so happy."
The five-time PBR World Finals qualifier, Daylon Swearingen and Pacheco were the only three riders to go a perfect 2-for-2 at the Global Cup.
Barbosa is the No. 9-ranked bull rider in the world heading into this weekend's U.S. Border Patrol Invitational, presented by Cooper Tires, in Glendale, Arizona.
The 2016 PBR Brazil champion has drawn Whatchamacallit for Round 1 Saturday night at Gila River Arena (8:30 p.m. ET on RidePass on Pluto TV).
Barbosa may not have been one of the three riders with a combined six world titles on the roster, nor does he have as long of a successful career as teammate Joao Ricardo Vieira. But Barbosa remains a rider who may be on the verge of a breakout – barring any injuries, which have seemed to continuously hinder him the past five seasons.
Barbosa has yet to finish a season inside the Top 5 of the world standings, but he does have a 48.78% career average on the premier series. Barbosa is 13-for-23 (56.52%) this season, and he is fourth in the league in riding percentage. His career average would place him eighth in the league this season.
"I am so happy Robson chose me, and I proved myself," Barbosa said. "I knew everyone had the potential to ride these bulls. These are World Champions on the team, and he chose me."
Time will tell if that confidence can spearhead Barbosa on a run into world title contention in the final two months of the regular season. The 2022 PBR World Finals begins on May 13 in Fort Worth, Texas, at Dickies Arena. A strong showing at the World Finals could also elevate Barbosa's draft stock even higher for the PBR Team Series draft (May 23).
Barbosa would certainly love another crack at a major payday in Texas, too, following this past weekend.
The sixth-year pro was in contention for the $2.1 million bonus at The American on Sunday after his 79.5-point ride on Scary Larry advanced him to The Shootout Round. However, Juju wound up bucking him off, and it was Pacheco walking out of AT&T Stadium in Arlington with the massive $2.1 million check.
"Yes, I was sad that I didn't win, but even happier to have reached the Final," Barbosa told PBR.com this week.
Follow Justin Felisko on Twitter @jfelisko
Photo courtesy of Andy Watson/Bull Stock Media
© 2022 PBR Inc. All rights reserved.