Barbosa Uses Sport Performance Center Keep Ridin' Invitational and Camp to Prep for Pendleton Whisky Velocity Tour
By: Justin Felisko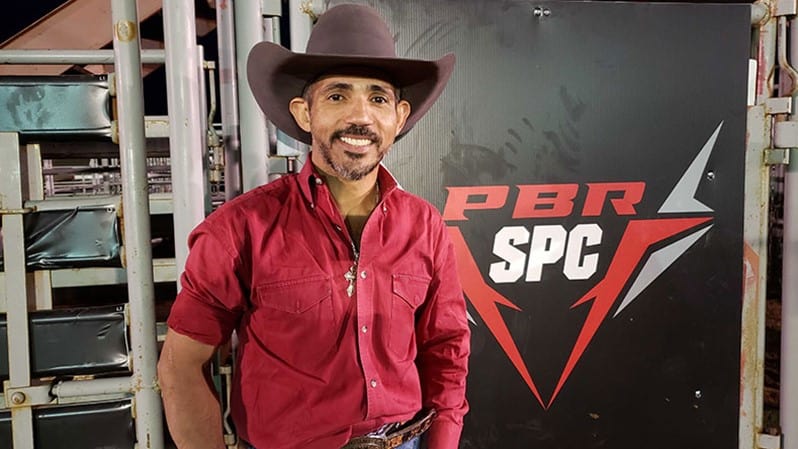 CALHAN, Colo. – Rubens Barbosa plopped his PBR gear bag onto the moist and mud-coated ground of the El Paso County Fairgrounds and slid off his leather PBR World Finals qualifier jacket with a slight cool breeze in the air.
The 37-year-old was beginning to prep his bull rope for the PBR Sport Performance Center's Keep Ridin' Invitational 650 miles away from MetraPark Arena in Billings, Montana.
Instead of competing alongside the Top 40 bull riders in the world on the Unleash The Beast, Barbosa – a six-time PBR World Finals qualifier – was one of 37 riders competing at Saturday night's exhibition bull riding. The PBR SPC Keep Ridin' Invitational was the culmination of a three-day bull riding school/camp that began at the SPC headquarters in Pueblo, Colorado, on Thursday.
PBR SPC Executive Director Antwon Burton had invited Barbosa to come to town to help coach some of the less experienced riders in Pueblo, and Barbosa decided to ride during the invitational bull riding with his pupils.
"I am happy to be here," Barbosa said following his 78-point ride on Vanilla Pudding on Saturday night with sweat running down his face onto his salt and pepper beard. "I feel really good. I came to the SPC for training and to make me feel more confident. There are a lot of young boys here that I have made friends with. They make me feel young. I feel young, but talking with them and training with them makes me more confident. I am really happy I stayed on my bull and I am healthy.
Barbosa has been struggling mightily in 2021. He has bucked off 14 consecutive bulls in PBR-sanctioned competitions and is 2-for-26 overall.
The 2011 PBR Rookie of the Year explained this week that various factors were causing his struggles, which ultimately stem from events of last year.
Barbosa was struggling physically with numerous injuries. He also went through a series of anxiety issues as his struggles in the arena continued and he worried about his wife battling a serious case of colitis.
"I was hurt a lot last year," Barbosa said. "It was a tough 2020 with everything happening."
Barbosa was injured attempting to ride Ground Assault at the Caterpillar Classic last season in Kansas City just before the start of the COVID-19 pandemic. It was the latest in a series of unfortunate injuries in 2020 for Barbosa.
He had surgery on his jaw about a week later and was limited to a liquid diet for two months. Barbosa lost 13 pounds during the last two months and just started to eat regular food last week.
"I had to sit out months, and I took a lot of medicine, and I lost my muscle and focus," Barbosa said. "It was hard. I had an infection in my face because of the plates."
Barbosa began 2020 with high aspirations following a career-best fourth-place finish at the 2019 PBR World Finals. It was in Las Vegas that Barbosa made a career-high 95.75-point ride on No. 1 YETI World Champion Bull contender Chiseled.
However, two weeks into this season, Barbosa broke his right foot in Chicago when Catfish John ran his foot into the chute post during the veteran's 72.5-point ride.
Barbosa missed three events with the injury before the injury bug hit him again eight days into his return. In his second event back, Barbosa sprained his right knee during his fifth-place finish at the Pendleton Whisky Velocity Tour event in Memphis, Tennessee.
Fourteen days later, and Barbosa broke his jaw.
"Everything happens, and it put my mind down," Barbosa admitted. "I felt weak. I didn't feel strong enough to ride. I was cut from the Top 35, and I had to go to Velocity. The pandemic did not help.
"After the Finals in 2019, I expected to have a good year in 2020. I kept getting hurt and hurt. It was like someone dumped cold water on my fire."
Barbosa believes he is on the verge of turning things around this year, even if the first five months of this season have yet to show a turnaround. The good news, though, is that Barbosa finally feels healthy and has been able to get back to the gym and work on rebuilding his strength. He also has gotten his anxiety under control, and his heart no longer races on him.
All signs are pointing upward, and getting a ride on Saturday night, even if in front of only a few hundred fans, only adds to Barbosa's growing confidence.
"I am here, but I am ready for Sioux City," Barbosa said with a grin.
Barbosa is next slated to compete at the Pendleton Whisky Velocity Tour's Sioux City Classic in Iowa next weekend.
"My goal is to get back on the Unleash The Beast," Barbosa concluded. "Trust me. You will see me again."
STURGIS WINS THE KEEP RIDIN' INVITATIONAL
Jaren Sturgis was unable to attend the SPC camp earlier in the week as he was graduating from Frank Phillips College in Borger, Texas, and finishing up his college exams this week.
However, the Loveland, Colorado native decided to still enter the exhibition bull riding on Saturday night in Calhan, and it worked out in his favor.
The 21-year-old rode Mercenary for 84.5 points to edge out five other riders with scores for the event victory at the El Paso County Fairgrounds.
"It feels amazing," Sturgis said. "I bucked off my long round bull, and it was one I should have rode. It was kind of bothering me a little bit. I have never been good about falling off my first one and clearing my head and coming back for my second one. Before my second bull, I was just laughing and joking before I got on, and I was just happy to be here. It was just a blessing this happened."
Sturgis was actually originally going to attend a wedding on Saturday night in Nebraska until his friend Andrew McWilliams, who was hauling bulls to the SPC bull riding, convinced him to enter instead.
"I feel bad I missed my buddy's wedding, but going to weddings doesn't pay the bills," Sturgis said.
Sturgis now has his sights on hitting the rodeo trail hard and prepping himself for possibly PBR events in the future.
"I've been college rodeoing and doing some amateur bull ridings this year," he said. "I want to get my PRCA permit again this year and work towards going to some PBRs someday."
Professional Bull Riders – Keep Ridin' Invitational
Calhan, CO, 2021 – Event Leaders (Round 1-Round 2-Event Aggregate-Event Points)
1. Jaren Sturgis, 0-84.5-84.50
2. Misael Lopez, 82-0-82.00
3. Rubens Barbosa, 78-78.00
4. Kristy Jaura, 74-0-74.00
5. Venn Johns, 73-0-73.00
6. Jake O'Dell, 49.5-0-49.50
Follow Justin Felisko on Twitter @jfelisko
© 2021 PBR Inc. All rights reserved.