Behind the Numbers: Kasel's Pair of Event Titles Represent Third Set of Consecutive Wins in 2023
By: James Youness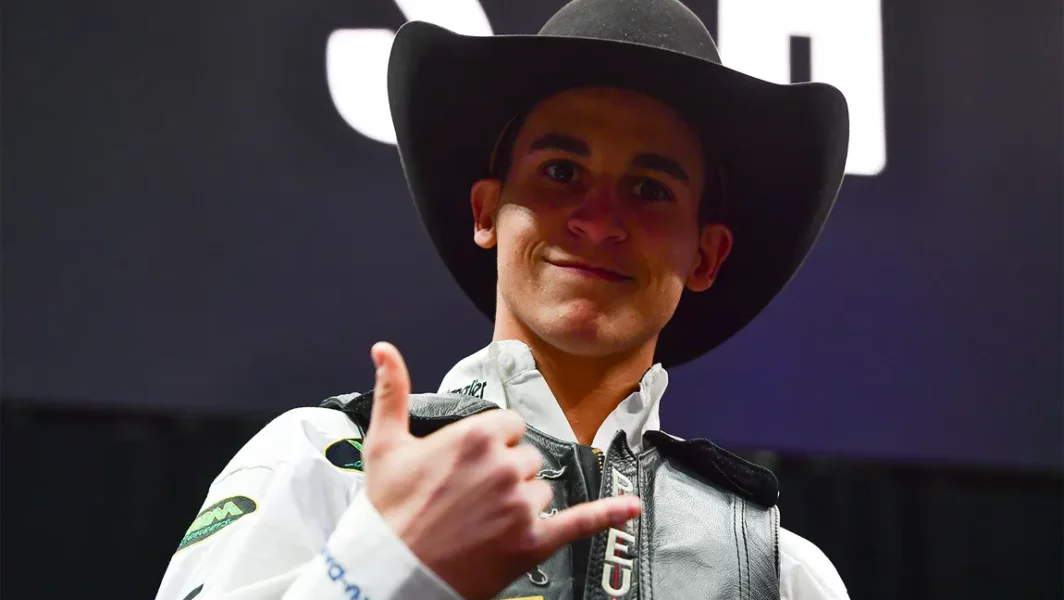 PUEBLO, Colo. – Sometimes when you're hot, you're hot.
Other times, when you're hot, you're on fire.
After seeing Dalton Kasel capture the premier series' two most recent event titles in Los Angeles, California, and Little Rock, Arkansas, en route to claiming the No. 2 rank on tour, we're classifying him as on fire, and then some.
Most recently bringing the heat this past weekend in Little Rock, courtesy of his perfect 3-for-3 showing, he punctuated his productive slate with yet another 90-point ride. This time, atop the elite talents of Chateau Montelena's Montana Jacket.
Having met the 90-point mark now in consecutive events, after posting a 90-point score paired against WSM's Time In A Bottle last weekend, it's no surprise that the trending Muleshoe, Texas, native's latest nickname revolves around the coveted mark: Mr. 90 Points.
In addition to his two formal event titles, Kasel has exited supreme in two of three 15/15 Bucking Battle qualifications, claiming a second-place finish in the third. Winning the first extra-out opportunity of the season in Chicago, Kasel bested Roc Wit It for an event-best 89.75 points before following it up later that month in Indianapolis with the closest of calls. Scoring his season-best 92 points matched against Tulsa Time, Kasel fell just short of the first-place honors, slightly edged by Kaique Pacheco's 93-point effort aboard Ricky Vaughn.
Kasel would get his revenge a few weeks later though, in Sacramento, California. Studied up and prepared for his opponent Chiseled, sparks flew again as the 24-year-old went on to cement his second 15/15 Bucking Battle win of the season.
Entering this weekend's PBR Brew City Classic in Milwaukee, Wisconsin, scorching hot, Kasel will look to join rare company in capturing his third-consecutive victory, winning in a third different region of the country after winning the last two events out west and down south.
Back-2-back: After picking up his first 2023 Unleash The Beast event title as February concluded, Dalton Kasel became the third rider this season to capture consecutive event wins, joining Andrew Alvidrez (who won in Manchester, New Hampshire and Albany, New York) and Jose Vitor Leme (who stormed back onto the scene earlier this season to win in his first two events of the year, in New York City and Chicago, after missing the first five events of the season due to injury). Kasel first bested Joker's Alibi for 87 points in the opening round and eventually punched his ticket to the short round less than 24 hours later via a conversion matched against Choc Tease. Collecting an 81.75-point score in Round 2, Kasel selected to compete against Chateau Montelena's Montana Jacket in the championship round. Quickly proving dividends, Kasel posted a 91.25-point outing, clinching his second-straight UTB event title and tying for the event's top-scored ride.
Round 1, Best 1: While it was Kasel who ultimately took home the back-to-back honors, it was 18-year-old Tate Pollmeier who took home the Round 1 win, courtesy of his successful opening night showdown with Huckleberry. Scored a flashy 91.25 points, the out represented the youngster's best-scored ride of his professional career and eventually tied Kasel and Joao Ricardo Vieira's short round efforts for the event's top-scored performance. The qualified ride also marked the only effort in Round 1 to meet the 90-point mark, and despite seeing Boudreaux Campbell and Kasel record impressive opening round scores the weekend prior in Los Angeles, it's just the sixth 90-point ride earned in an opening round all season.
No. 19: As the 2023 Unleash The Beast season rages on, first-year riders continue to make waves in the standings, not only fighting for the 2023 PBR Rookie of the Year rights, but keeping that gold buckle in mind, too. While Pollmeier was only able to produce a 1-for-3 record on the weekend, highlighted by his elite opening round performance, he still managed a fifth-place finish. Receiving a crucial 46 UTB points and corresponding $7,180 check, the rookie cowboy earned his second Top 5 premier series finish in his last four events as the Fort Scott, Kansas, native continues to get comfortable on the big stage. Currently ranked No. 19, Pollmeier improved to No. 4 overall in the 2023 Rookie of the Year standings, now just 182 points behind current leader Rafael Jose de Brito.
Feels like the 1st time: After getting banged up during his Round 1 out paired against Ho-Pac in Los Angeles, Brito didn't compete in Little Rock, but the last time he was healthy and in action, he captured his first UTB event title in Eugene, Oregon, at the PBR Kubota Emerald Chute Out. With a 12-for-30 record and having amassed 382 UTB points so far this season, the first-year competitor is ranked No. 6 overall while continuing to lead rookie riders. Just 8.5 points back in the rookie race, Daniel Keeping enjoyed an all-star caliber campaign through the first half of the season, but has since slowed down. Still ranked No. 2 among all first-year cowboys, Keeping has racked up two event titles this season, with the most recent coming Jan. 28 in Indianapolis and remains ranked No. 7 in the chase for the world title. Rounding out the Top 3, Brazilian sensation Thiago Salgado ranks No. 12 on the premier series and No. 3 among rookies, now 12-for-31 on the season.
56.5: Two-time World Champion Jose Vitor Leme recorded an 80.5-point trip atop Ain't No Joke this weekend in Little Rock, but ultimately has struggled in his last three events, now 2-for-6 dating back to the premier series' stop in Eugene, Oregon. He joins fellow Top 3-ranked cowboy Andrew Alvidrez in the recent slump, who is now 1-for-6 in his last six attempts, including a current four-out buck off streak after failing to meet the 8 last weekend against John 14:6 in an instant 1.10 seconds in Round 1 and Soul Train via a 3.06-second effort in the second. Despite besting his opening round opponent at the PBR U.S. Border Patrol Invitational, Leme was dispatched by Baptism By Fire in Round 2, with Feb. 11 in Tulsa, Oklahoma, now marking his most recent short round qualification.
2nd + 3rd = 5-4-6: On quite the opposite end of the spectrum, veteran Dener Barbosa is accustomed to the bright lights and big stages, but he's been getting used to regularly turning in quality performances this year. Ranked No. 10 in the UTB standings, the 28-year-old has been firing on all cylinders as the spring season blooms alongside the Brazilian. Now 5-for-6 through his last two events, Barbosa put together a perfect effort inside Little Rock's Simmons Bank Arena to take home a second-place finish. First conquering Cool Hand Luke in the opening round for 85.25 points, Barbosa and his Round 2 opponent, John 14:6, stepped it up a notch. Logging an impressive 89-point ride, he chose a showdown with the always-coveted I'm Legit Too in the championship round. As one of three riders on the weekend to stay flawless, Barbosa notched a 90-point outing against the respected bovine, Barbosa's first ride to meet the respected mark this season. The productive outing comes just one weekend after collecting a third-place finish at the PBR SoCal Showdown, now his fifth Top 10 finish as well.
Kasel and company will look to continue their productive streaks alive this weekend at the PBR Brew City Classic in Milwaukee, Wisconsin, March 11-12. The action is set to begin with Round 1 on Saturday, March 11 at 6:45 p.m. CST and can be viewed on RidePass on Pluto TV. The second round, followed by the championship go, are scheduled to begin on Sunday, March 12 at 1:45 p.m. CST, with the short round set to be broadcast on CBS Sports Network at 3 p.m. CST. Fans can stay tuned to PBR.com and PBR social media channels throughout the weekend for the latest news, wrecks and beyond as the 2023 Unleash The Beast season rages on!
Photo courtesy of Josh Homer/Bull Stock Media
© 2023 PBR Inc. All rights reserved.