Bennett Wins Cody Champions Challenge
by Tracy Renck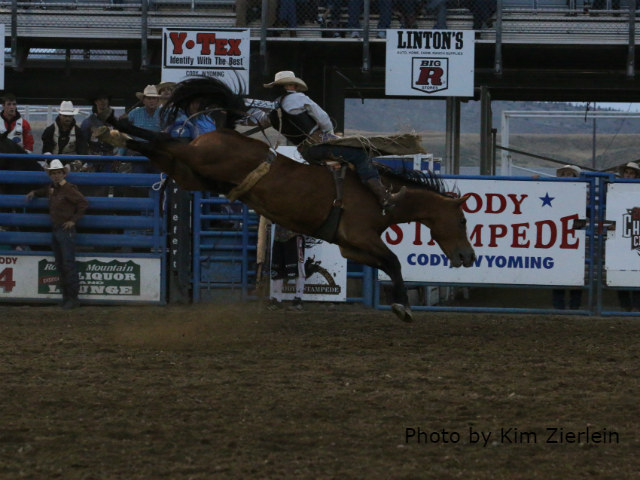 CODY, Wyo. – This has already been a season to remember for bareback rider Caleb Bennett.
Bennett, a four-time qualifier for the Wrangler National Finals Rodeo presented by Polaris RANGER, who has been having his career-best regular season added more memories Aug. 14.
Bennett had an 87-point ride on Summit Pro Rodeo's Revolving Door to win the Wrangler Champions Challenge presented by Justin Boots at Stampede Park.
"I had never been on that horse before, but I had seen him one other time at Pleasant Grove (Utah), and a kid I know won Pleasant Grove on him," said Bennett, 27. "So, I had a good idea this was a horse a guy could dang sure win on, and I was glad I was able to capitalize."
Grant Denny had an 84-point ride on Summit Pro Rodeo's Revolving Door to win the Strawberry Days Rodeo June 15-18 in Pleasant Grove.
For his Cody performance, Bennett earned $3,944 and this was the second WCC event victory this season as he also won the title in Rapid City, S.D., Feb. 3, with an 86.5-point ride on C5 Rodeo's Virgil.
"These Champions Challenges have been treating me pretty good and this whole year has been treating me pretty good," Bennett said. "I have been drawing good horses and I guess just the main thing is making sure I capitalize on them and take advantage when I do draw these good ones. A good hit like these Champions Challenges like Cody (Aug. 14) where you get a $4,000 payday, that's where we can make a little money and ease our pockets a little bit and ease our minds about making the NFR and getting where we want to be."
Bennett, who calls Tremonton, Utah, home, was third in the Aug. 8 WEATHER GUARD® PRCA World Standings with $96,831.
"This year, I have had a different mental game and a different physical game," Bennett said. "I kind of went home after the NFR last year and I wasn't happy with my performance and I wasn't happy with where my mind and head was at. I got a little bit of guidance to help my mental game and I started working out differently and got stronger and those things have resulted in a huge payoff for me. My performance has been better and I learned to handle the ups and downs better."
Other winners at the $92,800 were steer wrestler Josh Peek (3.8 seconds), team ropers Colby Lovell/Kory Koontz (4.8 seconds), saddle bronc rider Jake Watson (87.5 points on Mobetta's Sue City Sue), tie-down roper Hunter Herrin (8.0 seconds), barrel racer Jackie Ganter (16.84 seconds), and bull rider Sage Kimzey (89.5 points on Silver Creek Pro Rodeo's Smash Mouth).
This was Kimzey's sixth win in a Wrangler Champions Challenge event, the overall record. He had entered the night tied with fellow bull rider Cody Teel, barrel racers Mary Walker and Lisa Lockhart and tie-down roper Ryan Jarrett.
Courtesy of PRCA