Big Weekend for Jacob Gardner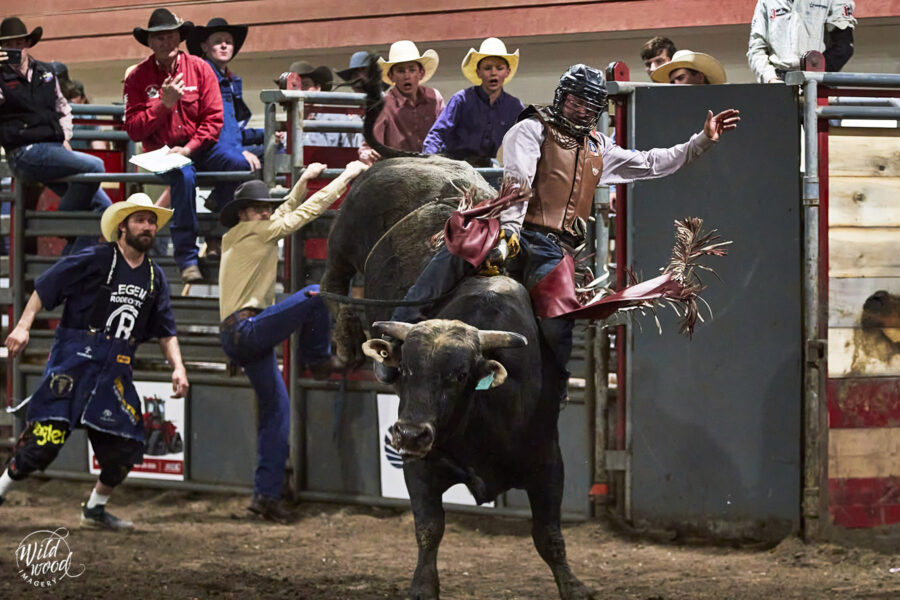 They call him The Prince of the Peace Country. But Jacob Gardner has shown that his abilities aren't limited to one geographical area with weekend successes in Alberta and southwest Texas.
The Fort St. John, BC bullrider/bull dogger captured a couple of titles to keep his early season streak going. The 2022 winner of the Kenny McLean Award (formerly the All-Around Award) split top honours in the bull riding at the Kananaskis Pro Rodeo in Coleman, AB with an 86-point ride on Duane Kesler Championship Rodeo's Fallen Angel, joining Paraguay-born Fabian Dueck in the winner's circle. Gardner then added an outright win at the Taber Spring Classic, mastering Legend Rodeo's Tabletop for 84 points and $1371. Factor in a 6thplace $541 cheque in the steer wrestling at Taber and you have a solid $3000 plus weekend on this side of the border that has the talented cowboy in second place in the bull riding standings.
"I had a couple of good draws this weekend and I knew if I capitalized it could turn out pretty good for me," Gardner noted. "I was dialed in and got the job done. The Legend bull, Tabletop, is up and coming with lots of potential. And Fallen Angel–in Coleman–I've been on three times and rode him twice. Actually, the weekend went pretty well as I hoped it might."
But the 26-year-old three time CFR qualifier wasn't done. He headed off to the famed George Paul Memorial Xtreme Bull Riding in Del Rio, Texas and rode both his bulls there including an 87-point effort in the short round to finish 3rdoverall for a $7276 payday and a $10,000 plus total injection to his PRCA bank account. Seven-time World Champion and 2019 CFR qualifier Sage Kimzey was the George Paul Champion.
After a shoulder separation at the Lethbridge PBR event shelved Gardner for six weeks he's back and "feeling good and riding good." The BC talent acknowledged that he has his sights set on an eventual NFR berth and another trip to the Canadian Finals Rodeo as well.
"Rodeo is definitely my main priority and the NFR is my main goal. I want to be a Canadian champion bull rider eventually. And maybe win the All Around as well (the newly-minted All Around Award was formerly the Hi Point Award and is open to athletes winning money in any two or more events). And I'd like to be at the CFR in both my events, that would be cool."
As for the 2022 Kenny McLean Award, Gardner is justifiably proud of the accomplishment. "Kenny is a legend and a BC guy so it's pretty sweet that I got to win the first one."
Additional Highlights
Sherwood Park, AB bareback rider Kody Lamb was another double winner this weekend chalking up victories at Taber with an 85.5 point ride aboard Legend Rodeo's Flashy Secret for $1218 and adding a 1-2 split (with Clint Laye) at Coleman, courtesy of an 86.5 mark on Duane Kesler Championship Rodeo's Up North Outlaw for an additional $1113. The two-wins solidified the cowboy/singer-songwriter's hold on a top five spot in the early season Canadian standings.
Reigning Canadian Champion, Taylor Manning added another win to her 2023 portfolio with a 12.61 second run for the Kananaskis win and $2013 to move the 2022 titleist to second place in the Canadian standings. Manning earned the win at Medicine Hat a couple of weeks back–in both cases aboard Little Sexcee Cowboy (aka Archie), her young, talented gelding.
And a couple of newcomers to the professional ranks displayed their prowess as well. Bull rider William Barrows, the pride of Foremost Alberta, was second at Taber and third at Coleman for a tidy $1932 weekend haul while Saskatchewan teenager, Kate Beierbach cruised to a 12.85 second barrel racing run and her first pro rodeo cheque, $1102 for a 4-5 spilt at Coleman.
South of 49, several CPRA athletes made their presence felt as the Clovis, California event wrapped up. Most notably, four-time Canadian Tie-Down Roping Champion, Shane Hanchey, was 38.4 seconds on four to collect $12,906, providing a welcome move up the standings for the 2013 World Champion. Reigning Canadian Champion, Ty Harris, was right behind Hanchey (40.3 seconds ($9753). Perennial CFR qualifier, Caleb Bennett, was second in the bareback riding (87 points, ($7816), former Canadian Champion Richmond Champion was fourth (86, $3738) and Kody Lamb grabbed sixth place (82.5, $1699).
World team roping leaders Rhen Richard and Canadian Jeremy Buhler struck again, this time for second spot (35.5 seconds on four head for $5571) and in the saddle bronc riding, reigning World and Canadian Champion Zeke Thurston was third (87.5, $5577) while Layton Green caught sixth hole (85.5, $1640)
2022 CPRA/PRCA Rookie of the Year, Bayleigh Choate, was 51.63 seconds on three runs for fifth overall and $2852 at Clovis, while two time Canadian Champion, Jared Parsonage, was 80.5 points for eighth place in the bull riding, earning the Saskatchewan cowboy $979.
Up next on the CPRA schedule is this week's Drayton Valley [Alberta] Pro Rodeo May 5-7.
For detailed CPRA rodeo results go to rodeocanada.com
ABOUT CANADIAN PROFESSIONAL RODEO ASSOCIATION (CPRA)
The Canadian Professional Rodeo Association with headquarters in Airdrie, AB is the official sanctioning body for Professional Rodeo in Canada. The CPRA approves 55 + events annually with a total payout exceeding $6 million. The organization oversees the SMS Equipment Pro Tour Finale each fall in Armstrong, BC, holds their premiere event–the Canadian Finals Rodeo (CFR)–at Westerner Park in Red Deer, AB in early November and endorses the Maple Leaf Circuit Finals as part of Canadian Western Agribition in Regina, SK. For details, please see RodeoCanada.com For Facebook and Instagram: @prorodeocanadaofficial l Twitter: @prorodeocanada