Calgary Stampede | Don't Miss This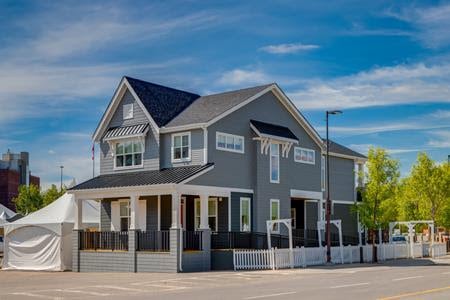 $1.3 Million Rotary
Dream Home
Built by Homes by Avi, the Rotary Dream Home also comes with your choice of a one-bedroom condo in the University District or $250,000 cash, with proceeds being reinvested back in the community. Stampede Lotteries tickets for the Rotary Dream Home and Kinsmen Wheels prizes are on sale daily on Stampede Park! Learn more, here.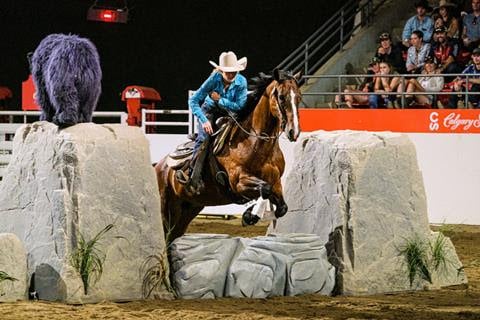 Cowboy Up Challenge
This lightning-fast competition is a favourite at Stampede, demonstrating amazing horsemanship and the incredible speed of the animals as they maneuver through obstacles. Starts at 11:30 a.m. at the Nutrien Western Event Centre.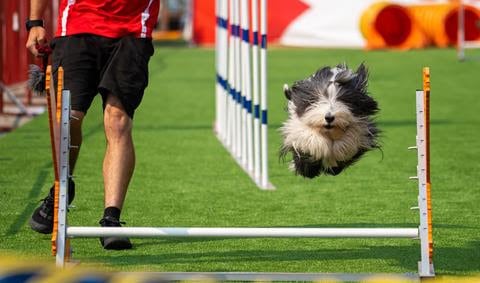 Dog Bowl
You won't want to miss these canine athletes as they perform amazing feats of speed and agility, with shows at 11:30 a.m., 2:30 p.m, 4:30 p.m. and 7 p.m. at its new location in the BMO Centre – Hall D.
---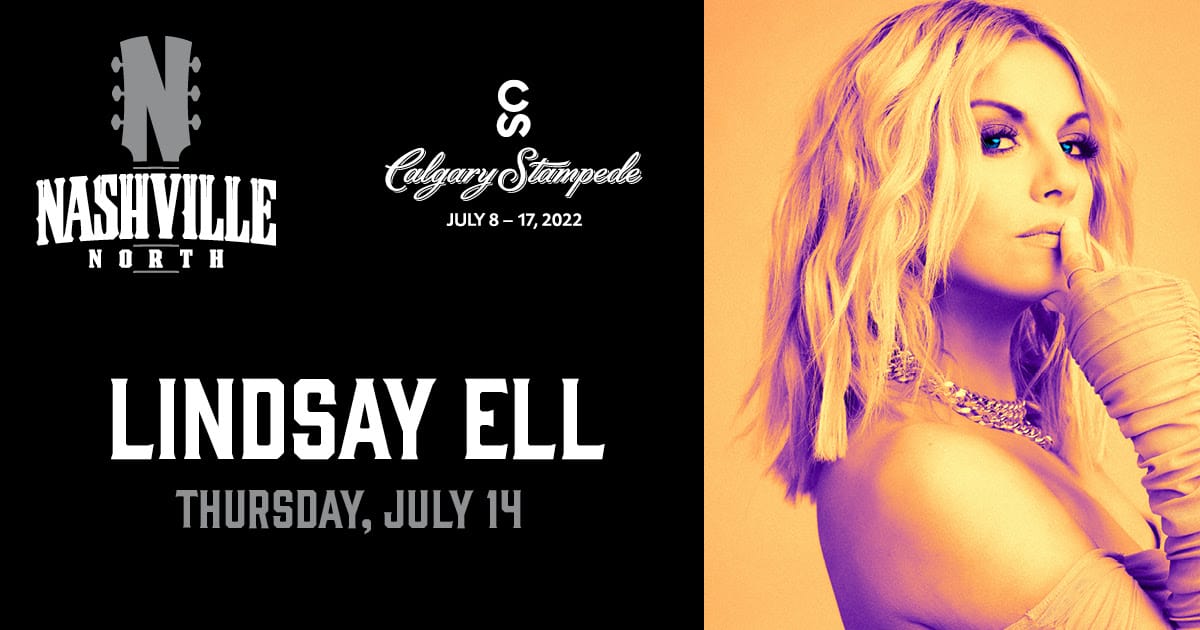 Tristan Horncastle – 4-5:45 p.m.
Mariya Stokes – 6-7:45 p.m.
Nice Horse – 9:30-10 p.m.
Lindsay Ell – 10:30-11:45 p.m.
Drew Gregory – 12:15-2 a.m.
---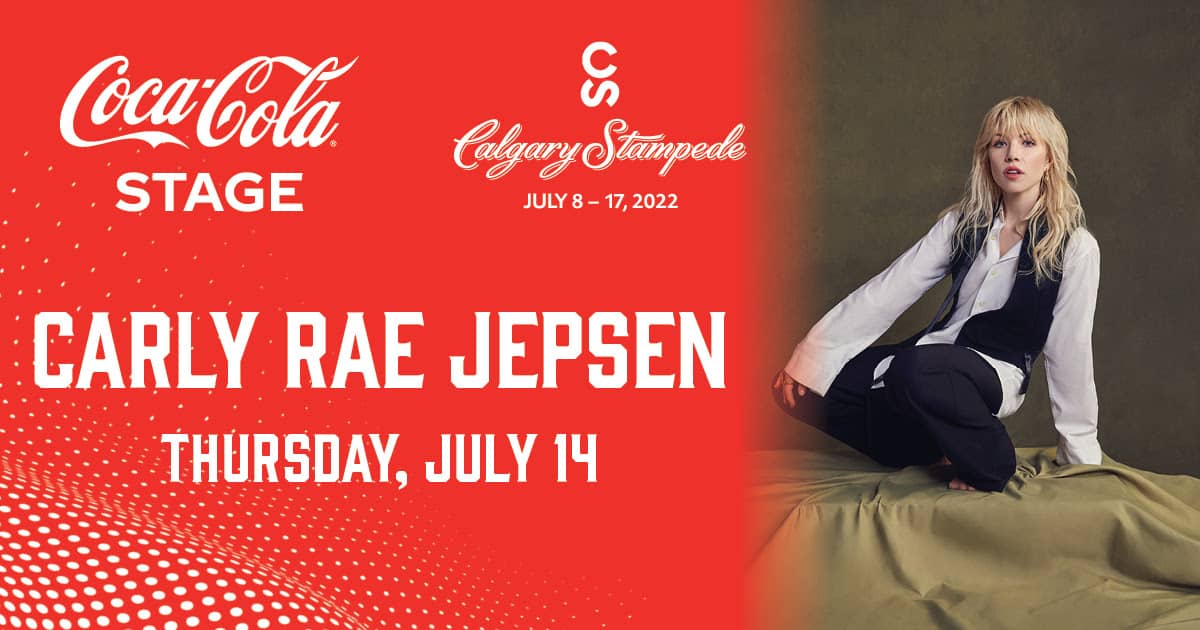 Brittany Kennel – 12:30-1:15 p.m.
Apollo Suns – 1:45-2:30 p.m.
Tyler Shaw – 8-8:45 p.m.
Carly Rae Jepsen – 9:15-10:25 p.m.
---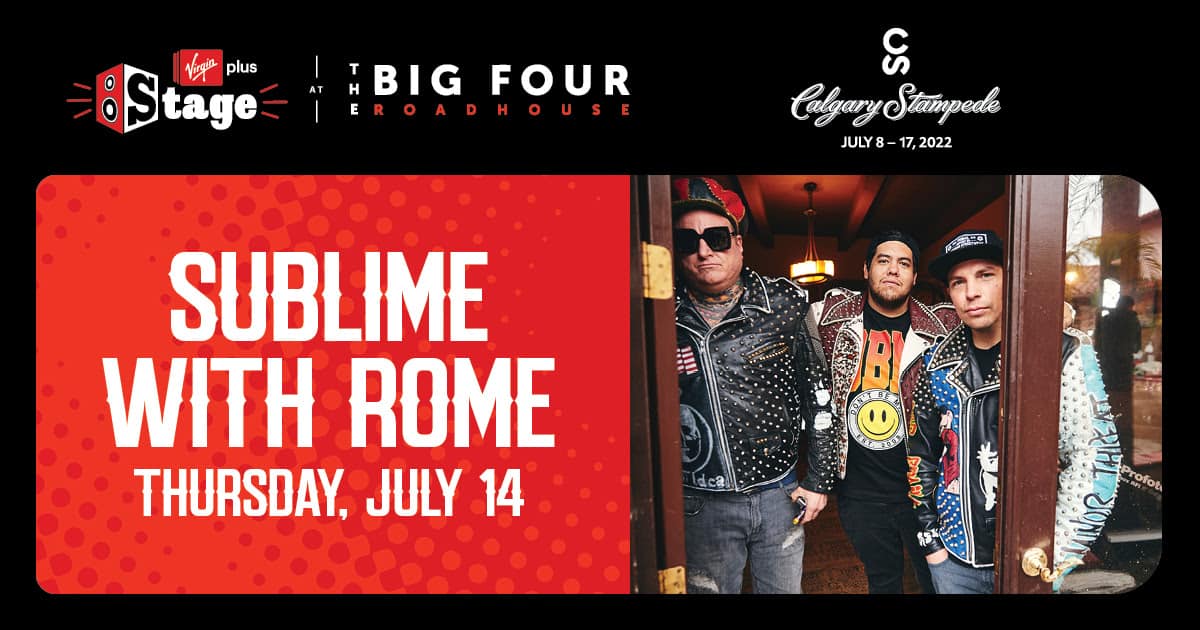 The Dungarees – 4:45-6:30 p.m.
Jory Kinjo – 7-7:45 p.m.
Sublime with Rome – 10-11:30 p.m.
---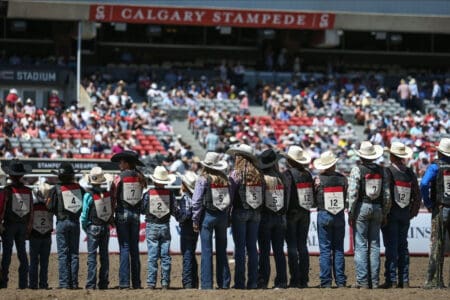 It was day six of Stampede action yesterday, and it was also BMO Kids' Day. In honour of that, we are highlighting the youngest contestants in the Rodeo – the six teams that make up the Wild Pony Race. Today, three of our six teams managed to get their riders on the back of their pony, while three more went for a different kind of ride behind the ponies, to great cheers from a huge GMC Stadium crowd. Each and every one of our brave, young competitors were winners in one of the fan favourite Rodeo events.
Full results for the adult Rodeo events can be found here.
Meanwhile, it was a steamy night at the Cowboys Rangeland Derby on Wednesday, but it was Chanse Vigen who really heated things up, driving the Vertex wagon to a time of 1:12.88 to capture the day's top payout of $6,000. After six nights of racing, it's Layne MacGillivray who leads the charge atop the cumulative results with a total run time of 7:23.45 and a payout of $24,900.
Wednesday's full chuckwagon results can be found here.
---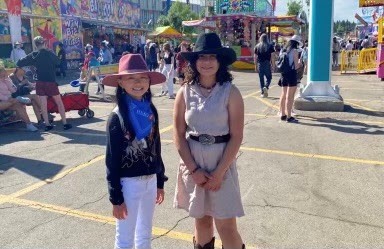 Reporting Live from Stampede Park – BMO Jr. Reporters
The Calgary Stampede and BMO Bank of Montreal are excited to announce the 2022 BMO Junior Reporters! Aidan Cha, age 10, and Yekta Gol Mohamadi, age 12, are this year's talented winners, who reported live from Stampede Park, on Wednesday, July 13, for BMO Kids' Day at the Calgary Stampede.
For the BMO Junior Reporter contest, participants submitted an original news story from the viewpoint of a Calgary Stampede reporter. The top contestants then moved on to the final round of auditions, where Aidan and Yekta became the 2022 BMO Jr. Reporters!
Showcasing their talents and interview skills, the BMO Jr. Reporters spoke with athletes, event performers, and other special guests, including some local media.
"BMO has been a proud supporter of the Calgary Stampede for over a century, and it's been a catalyst for driving positive change in the community," said John MacAulay, Regional President, Prairies Central, BMO Bank of Montreal. "The BMO Junior Reporter contest allows young aspiring journalists to sharpen their skills and experience a day in the life of their future career. We look forward to this event each year and yesterday was no exception. Aidan and Yekta were fantastic on the Stampede grounds, reporting on all the great happenings of the day."
Both BMO Jr. Reporters will receive $2,500 towards a BMO RESP and $1,500 towards school supplies for each of their schools. The winners of the BMO Jr. Reporters also enjoyed some fun activities on the Midway and at the Evening Show with their families. They also received new western outfits to report at the Calgary Stampede in style.
---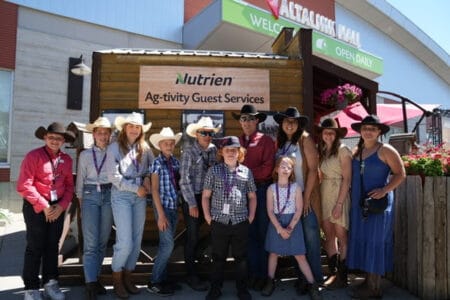 Ag Youth Ambassadors: At your service!
If you have been to the Calgary Stampede before it is likely you are familiar with the wooden cabin just outside of the Nutrien Western Event Centre.
Here you can find Anita Carey, a long-time Calgary Stampede volunteer and Chair of the Ag-Tivity in the City committee, alongside the Ag Youth Ambassadors ready to assist guests.
Among many sub-committees included under the Ag-Tivity in the City umbrella is the Ag Ambassador Sub-committee, which includes the Ag Youth Ambassadors. This group of friendly volunteers is always happy to answer all your agriculture questions, direct you around the Agriculture Zone and encourage you to attend the various agriculture events.
Through the Ag Youth Ambassador program, youth aged 10 to 17 have the opportunity to come down to the Stampede and learn the true value of volunteering and giving back to their communities.
Anita leads the Ag Youth Ambassadors team which includes her grandchildren Riley and Cole Carey. Not only is it a great opportunity to get in some quality time with her grandkids, but it's also an opportunity to engage the younger generation in learning about and spreading the word about Calgary's unique western heritage.
"Since the pandemic, and all the challenges our youth have faced as a result, it's really important to give back to our communities and link everyone back together and grow through everything," said Anita.
Riley and Cole are both 17 years old and have been part of the Ag Youth Ambassadors program for four years.
"I've been to every single Stampede since 2005, so I love to be able to help guests and direct them to wherever they need to be," said Cole.
Helping guests is the name of their game, and they do this by conducting barn tours, answering questions and ensuring guests take full advantage of all that the Calgary Stampede has to offer.
"It's awesome to be able to show people around and help them get the most out of their Stampede experience. I love seeing all the families and seeing how much fun they're having," said Riley.
Riley and Cole have been volunteering since 2013 and recommend everyone check out the Rodeo and Chuckwagons, tag along on one of their barn tours to learn about the different breeds of horses, and so much more.
Be sure to stop by the Nutrien Ag-tivity Guest Services cabin outside of the Nutrien Western Event Centre and say hello to the Ag Youth Ambassadors during Stampede.
---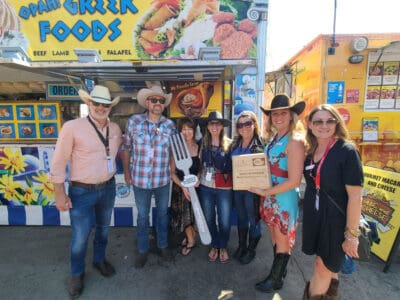 Best New Food on the Midway: The Best International Food Award Goes to the Beef Donair!
A generous helping of well-seasoned beef on a bed of crispy romaine lettuce, ripe tomato, and red onion with refreshing light tzatziki, all wrapped in a warm soft pita. Our Greek Ya-ya (grandma) would approve! The Beef Donair by Opa Greek Foods is the day-six top judged Best International Stampede food.
Yesterday's special food judges included Beijing Ski Jumping Medalist and four-time Olympian, Mackenzie Boyd-Clowes, whose birthday also was yesterday. Calgary Food Influencer Miss Foodie @miss_foodie also assisted the judging panel.