California Rodeo Salinas' 3rd Performance is in the Books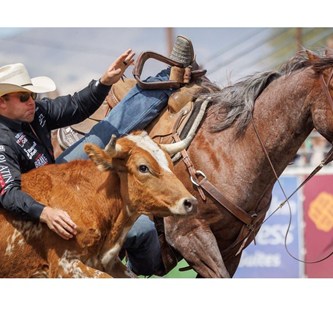 The first of two weekend matinee performances of the California Rodeo Salinas entertained 13,851 fans at the Salinas Sports Complex. Attendance was up 18.6% over the same performance in 2019, the last year that the Rodeo was held in July. Veterans and Active Military gained free entry into the event which was presented by Tanimura & Antle.
The Special Buckaroos Rodeo was also presented by Tanimura & Antle and took place at noon on the Rodeo Track. The event hosted 24 children with disabilities from Monterey County who participated in various rodeo events led by professional cowgirls, cowboys, and Rodeo volunteers.
Veteran James 'Guido' Davis delivered the American flag to the arena via airplane and will repeat it again on Sunday.
Full arena results can be found here: https://www.carodeo.com/p/events/2022-rodeo-result…
Don't miss the Crown Royal Day of Champions and Man Up Crusade Day on Sunday, July 24th at the California Rodeo Salinas. Wear purple to show your support. Get more information about the Man Up Crusade here: https://www.carodeo.com/events/2022/man-up-crusade-purple-day. Gates open at 10am with Cowboy Church at 10:30am, vendors, the McDonald's Kids Corral and more open to entertain guests before the grand entry starts at 1:15pm. Get a full event lineup at carodeo.com.
Click here and select daysheet to see who will be competing in the championship round tomorrow: https://prorodeo.com/result/2022/california-rodeo-salinas/12439
Tickets are available at www.carodeo.com or 1034 N. Main Street after 10am on Sunday. Prices are $12* for children, $20* for adult general admission and $25* for adult reserved seats; prices are $5.00 less online than in-person at the ticket office and tickets can be printed at home or downloaded to your phone to be scanned at the gate. A clear bag policy is in effect with full details at www.carodeo.com.
If fans can't attend the Sunday performance in person, the California Rodeo Salinas will be streamed live at 1:15pm PST on the Cowboy Channel + app or at 5:30pm PST on The Cowboy Channel (Channel 232 on DISH and 603 on DirectTV-google the channel depending on cable provider).
'Like' the California Rodeo on Facebook at www.facebook.com/CARodeoSalinas to receive alerts. Follow the Rodeo on Instagram (@carodeosalinas) and twitter (@CaliforniaRodeo) for daily updates, photos and more.
*All ticket subject to additional fees.
Photo of steer wrestler Dakota Eldridge by Phil Doyle.
About California Rodeo Salinas
The 112th California Rodeo Salinas will take place July 21st – 24th. The California Rodeo Association is a not-for-profit organization that strives to preserve and promote the traditions of the California Rodeo Salinas and the West. We support the community and other non-profit organizations through the staging of the annual California Rodeo Salinas and other year round operations of the Salinas Sports Complex. Through donation of our facility, vending and fundraising opportunities during Rodeo and other events, the California Rodeo Association returns almost $500,000 annually to local non-profits. For more information about the California Rodeo Salinas, log on to www.CARodeo.com or call the California Rodeo Office at 831-775.3100.