Campbell's souped up effort puts him first in average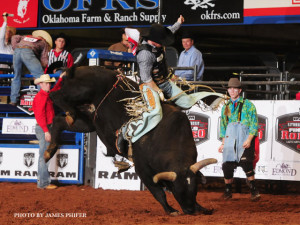 By Tracy Renck for ProRodeo.com
GUTHRIE, OKLA. – Cody Campbell's first trip to the Ram National Circuit Finals Rodeo has been memorable so far.
The Summerville, Ore., bull rider scored 85 points on Mo Betta Rodeo Company's Player to win the second round and average Saturday afternoon at the Lazy E Arena.
"I had never even seen that bull before," said Campbell, 26. "He was a really good bull. He turned back to the right, right there and you couldn't ask for a better bull. He kind of had me out of shape, but I got back to him and finished it off."
Campbell, who is representing the Columbia River Circuit, finished with a 168 points on two head, thanks to an 83-point ride on Silver Creek Rodeo's Radical Roller Thursday morning.
All 24 contestants in each event competed in the two preliminary rounds of the rodeo which concluded Saturday afternoon.
The top eight in each event advanced to the 7:30 p.m. (CT) semifinal round on Saturday, where all previous scores and times are discarded.
The top four finishers in that round move on to the final round, a sudden-death competition that determines the national champion.
"The name of the game is to stay on two more, and if I do that I should be leaving here with a check," said Campbell, who pocketed $4,525 for winning the average. "This is a great event for us to come to and make some extra money. This is an awesome deal they have here and it allows us the opportunity to win extra money for doing well in our circuit."
A year ago, Campbell finished seventh in the PRCA world standings with $134,523 in winnings.
Other two-head average winners were bareback rider Bobby Mote (165 points), steer wrestling co-winners Bray Armes and Trevor Knowles (8.7 seconds), tie-down roper Adam Gray (18.1 seconds), saddle bronc rider Cody Wright (166 points), team ropers Paul Tierney and Jared Bilby (9.7 seconds), and barrel racer Shelly Anzick (34.82 seconds).
"I hope to get on two tonight and make two good rides and see where it puts me," said Mote, who has won four gold buckles, in 2002, 2007, 2009-10.
Armes, who won the average title at the 2013 Wrangler National Finals Rodeo, and was third in the final world standings, also is keeping a level head about the final performance of the rodeo.
"I'm just going to back in there and try to get a great start," said Armes, who is making his second appearance at the RNCFR, the other time coming in 2005. "Then, I want to make the best run I can, and see what happens."
The home state team – the Prairie Circuit – has the highest number of contestants advancing to the semifinal round with eight, followed by Texas with seven contestants.
Four circuits have six contestants advancing to the semis – the Badlands, First Frontier, Mountain States and Turquoise.
Also, each of the 12 circuits has at least one competitor in the semifinals.
Courtesy of PRCA