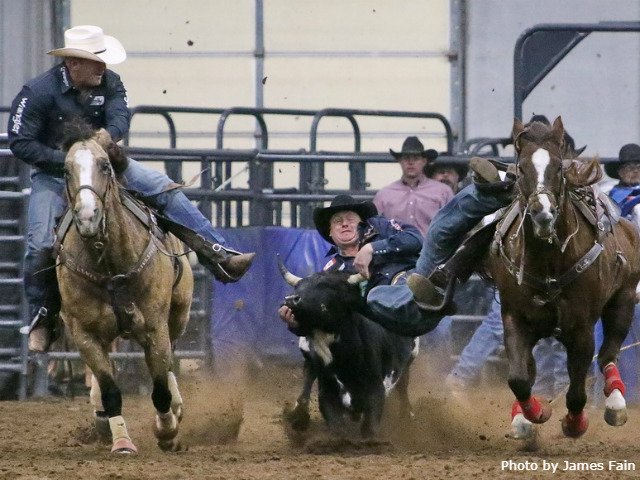 HEBER CITY, Utah – Twenty years into his ProRodeo career, steer wrestler Curtis Cassidy is off to a running start in the 2018 season by winning the RAM Wilderness Circuit Finals Rodeo at Heber City, Utah.
"Any win at any age is special, but getting the circuit finals 20 years into your career is special for sure," Cassidy said. "It's definitely a young man's sport. Don't get me wrong, but in steer wrestling for sure, if you have the horsepower under you, that is three-quarters of the battle and the rest is drawing the right steer."
Cassidy placed third in the second round with 5.0 seconds and returned as the top bulldogger in the final round with a 3.9-second run.
"My first two runs at the circuit finals didn't go as good as they should have, they weren't bad, but they weren't as good as I wanted them to be," Cassidy said. "Then tonight was do or die. I basically had to try and put some pressure on the guys behind me that were ahead in the average."
Altogether, Cassidy's 13.5 seconds on three head turned into a $5,834 payday for the 39-year-old from Donalda, Alberta.
"Most guys don't go as long as me," Cassidy laughed. "At this point in my career, if I don't have good horses to ride, I don't feel like riding – and I have a good horse in Canada and Tom (Lewis) has a good horse here, so it gives me some interest to make a run at Vegas again."
Cassidy rode Tom Lewis' 12-year-old sorrel, Maverick, at the RWCFR and at the All American ProRodeo Finals at Waco, Texas, last month. At Waco, Cassidy won the second round and the semifinals, and placed second in the finals for a grand total of $10,179.
"He's a great horse," Cassidy said. "Basically, he does everything you could ask a horse to do – he is good in the corner, runs hard and runs great patterns."
Cassidy knows a good horse when he sees one, having joined the PRCA in 1998 and qualified for the Wrangler National Finals Rodeo presented by Polaris RANGER five times (2002, 2008-10, and 2014). Now he's seeking his sixth qualification.
The Canadian bulldogger is off to a strong start in the 2018 season. He was already ranked second in the WEATHER GUARD® PRCA World Standings with $12,773 before winning the RWCFR.
"I have about $18,000 going into the season, so it's full speed ahead," Cassidy said. "I won't go to everything in the winter, but I will go to Florida for the (RAM National Circuit) Finals and then California in the spring. But, I like to go to the close ones in the winter and spring; and then in mid-July I like to enter everything for those six weeks through September and go to five to seven rodeos a week. There's so many good rodeos that time of the year. Everyone talks about the winter and Fourth of July, but from mid-July through Pendleton (Ore.), you can coast along and win and get $4-5,000 a week."
Cassidy ended the 2017 season ranked 26th with $60,207 thanks to winning the Drayton Valley (Alberta) Rodeo and the Dixie Roundup at St. George, Utah. He was also the co-champion at the Ellensburg (Wash.) Rodeo and the Hand Hills Lake Stampede at Craigmyle, Alberta.
"I wasn't qualified for the (RAM National) Circuit Finals, or any of the big winter rodeos, so I had a slow start," Cassidy said. "This year I'm definitely going to put in a good effort to get to everything I can get to."
Up next, Cassidy is heading to the Canadian Finals Rodeo in Edmonton, Alberta, on Nov. 8-12 – which can be viewed online at prorodeotv.com. From there, he'll hit some rodeos in Canada before taking a break for the holidays to rest up for the National Western Stock Show and Rodeo at Denver, Colo., and the Sandhills Stock Show & Rodeo at Odessa, Texas, in January.
"This time of year slows down, but I have been rodeoing every week since the end of the season so it's good because it keeps you sharp for the Canadian Finals," Cassidy said.
Other winners at the $174,813 rodeo were all-around cowboy Rhen Richard ($6,077 in tie-down roping and team roping); bareback riders Caleb Bennett and Kaycee Field (251 points on three head each); team ropers Thad Ward/Olin Pulham (19.9 seconds on three head); saddle bronc rider Jake Wright (249.5 points on three head); tie-down roper Matt Shiozawa (27.2 seconds on three head); barrel racer Jennifer Barrett (48.90 seconds on three head); and bull rider Joe Frost (247 points on three head).
For more coverage of the RAM Wilderness Circuit Finals Rodeo, check out the Nov. 24 edition of ProRodeo Sports News.
Courtesy of PRCA