Chancey Williams to Headline Musical Performances at Nashville Stampede Days
By: Kacie Albert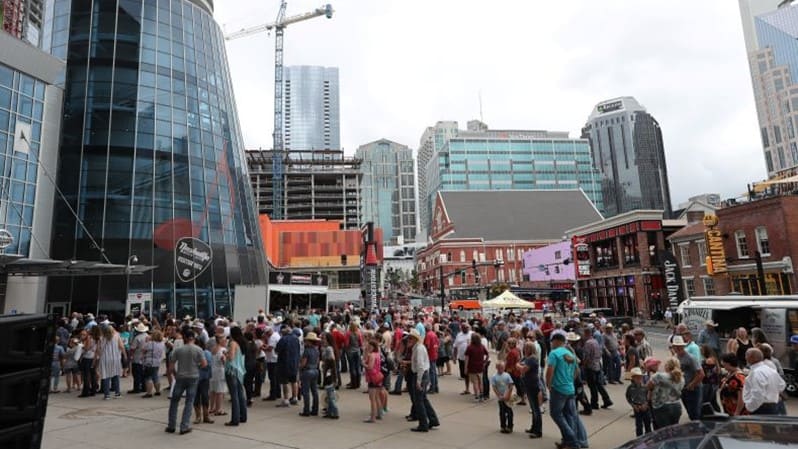 NASHVILLE, Tenn. – Ahead of the team's hometown debut, PBR (Professional Bull Riders) Stampede Days from Aug. 19-21, the Nashville Stampede today announced a two-day fan festival at Bridgestone Arena, featuring non-stop musical performances, local vendors and more, headlined by an in-arena performance on August 19 by reigning Rocky Mountain Country Music Entertainer of the Year Chancey Williams.
The Stampede, the newest professional sports team to take Nashville by storm, are one of eight founding franchises for the groundbreaking PBR Team Series. During the regular season, the founding teams will compete in five-on-five games, with a 10-event regular season leading into a national championship that will be decided in a double-elimination playoff tournament this November in Las Vegas.
The Stampede Days fan festival will begin at 1:00 p.m. on Friday, August 19, culminating with an in-arena performance at 6:30 p.m. by Williams. The festivities will then resume on Saturday, August 20 at 11:00 a.m. All performance on the Plaza are free-to-attend, while Williams' concert inside Bridgestone Arena will require a Stampede Days ticket to attend.
The daily music will also be accompanied by local vendors and the chance for festival-goers to interact with other local sports teams and venues including the Nashville Sounds, Nashville SC and Nashville Motor Speedway.
Saddle Bronc athlete turned neo-traditional country music sensation, Williams has gone from competing on horseback to performing on center stage, as one of only two artists, joining Chris LeDoux, to both compete in the rodeo and perform on the main stage at Cheyenne Frontier Days.
Amidst a breakout year, Williams began 2022 by being named iHeartRadio's 2022 Rocky Mountain Country Music Awards Entertainer of the Year. Williams also won Songwriter of the Year for 'The Saint' and Album of the Year for his most recent record produced with country hitmaker Trent Wilmon, 3rd Street.
Prior to Williams taking the mainstage inside Bridgestone Arena, fans will enjoy a talent-packed lineup of free-to-attend concerts starting at 1:00 p.m. on August 19. Performers include: Shelby Darrall (1:00 p.m.), Walker Montgomery (2:00 p.m.), Catie Offerman (3:00 p.m.), Noah Hicks (4:00 p.m.) and Charly Reynolds (5:00 p.m.).
About the performers:
Shelby Darrall: Growing up, Darrall performed in the tasting rooms of wineries throughout Napa Valley and later moved to Nashville to pursue her musical dreams and finish school at Belmont University. Her combination of wit and depth lyrically as well as her unique voice quickly gained the respect of the Nashville songwriting community, where she co-wrote with esteemed industry veterans Brett James, Troy Verges, and Emily Weisband, and collaborated with artists including Jake Owen, Larry Fleet, and Josh Kerr. With a wide range of musical influences spanning from Alabama, The Eagles, and Eric Church to Cher, Etta James, and The Dixie Chicks, Darrall's unique sound and talent gained the attention of Grammy-winning icon, Ron Fair (Christina Aguilera, The Black Eyed Peas, Vanessa Carlton, Lady Gaga), produced Darrall's debut EP, "Entertainment For The Brokenhearted", OUT NOW. The debut single, "Love Me When I'm Leavin'," was dubbed as "the perfect heartbreak anthem" by People. For more information on Shelby Darrall and tour dates, visit www.shelbydarrall.com.
Walker Montgomery: Montgomery, chosen as an Artist to Watch in 2022 by Country Now and Music Mayhem Magazine; as well as Artist to Watch in 2021 by Sounds Like Nashville and The Boot and a Country Next pick by Country Now, is a rising singer/songwriter who knows a thing or two about family tradition, but he's an artist making his own legacy. The 22-year-old son of John Michael Montgomery and nephew of Montgomery Gentry's Eddie Montgomery, the emerging star was raised away from the spotlight in Nicholasville, Kentucky. But now that he's found that spotlight on his own, Montgomery's pedigree is matched only by his country passion. Montgomery and his team have logged countless hours in the studio, as the breakout talent works to hone his lyrical honesty and integrity, plus a lived-in sound that brings country's past into the present tense.
Catie Offerman: Offerman may be a new name to country music fans, but she's already gaining a reputation as one of the genre's most skilled players and promising modern traditionalists. Offerman started playing piano at the age of four which eventually led her to pursue other instruments such as violin, accordion and more. Offerman graduated from Berklee College of Music at the age of 19 and signed her publishing deal with Universal Music Group Publishing about five years later. Offerman was featured in The Highwomen's "Redesigning Women" video, inked her record deal with Universal Music Group in 2020 and was named one of "The Boot's" 2021 Artists to Watch. Her debut tracks "Happyland Trailer Park" "Just Don't Do It In Texas" were released earlier this year.
Noah Hicks: Recently named Billboard's "Country Rookie of The Month," Nashville-based rising country artist Hicks brings a vocal warmth using creative lyricism and ingenuity, producing a distinct sound that emanates the feel of his Georgia upbringing. A sound that is evident on his forthcoming six-track EP — Tripping Over My Boots — out Friday, September 30 via RED Creative Records. Raised in a musically inclined family, Noah was naturally drawn to the art form. He officially moved to Nashville, TN from his hometown in 2020 with a guitar, some songs and a distinguished voice, which caught the ears of RED Creative Group. Noah has been steadily building fans and accolades, including American Songwriter and Holler with every release. That go-getter mentality Noah possesses has led him to where he stands now: a promising up-and-comer with a series of market-friendly songs on Tripping Over My Boots. Furthermore, Noah takes his musical prowess and packages it in an unparalleled, high-energy live show that seals the deal for potential fans every time he takes the stage.
Charly Reynolds: Reynolds, a charismatic 22-year-old singer-songwriter born and raised in the sunshine state of Florida, is making her place in country music. Her version of "Neon Moon" was featured in the Season 5 finale of FOX's provocative medical drama THE RESIDENT. Her new single "Rodeo," was released on June 3 and she has seen explosive growth across her socials since the release. CMT.com premiered the music video and Reynolds launched a highly successful social series called "This IS My First Rodeo," where she takes fans along on a number of firsts. Reynolds will be performing alongside such artists as Brett Eldredge, Lainey Wilson, Elle King and others at Elevation Beaver Creek this fall (from the creators of Live In The Vineyard.) Her single "Tonight In Texas," is slated for release in September. For more info, follow Reynolds on socials at @charlyreynoldsmusic.
On Saturday, August 20, the festivities will get underway starting at 11:00 a.m. The musical performers include: John Haywood (11: 00 a.m.), Carson Beyer (12:00 p.m.), Kimberly Kelly (1:00 p.m.), Will Jones (2:30 p.m.), Mae Estes (3:30 p.m.) and Chancie Neal (4:15 p.m.).
About the performers:
John Haywood: Hailing from South Baltimore, Haywood is a touch of old school. His pairing of outlaw country and folk blues, and the lyricism of a born writer, have earned him a following among fans of Jason Isbell, Colter Wall, Brent Cobb and the like. With less than a year under his belt in Music City, he's already making a name for himself as a versatile songwriter with a voice that cuts through the crowd.
Carson Beyer: Beyer is a country music artist from Paducah, Kentucky. Growing up, sports were a huge part of Beyer's upbringing. With the odds stacked against him, he walked on and earned a spot on the Murray State football team. Music was something he's had a passion for since he was a kid, so after college, Beyer honed his skills and focused solely on music. He then began to take trips to Nashville to write with producer Serg Sanchez and others. In Beyer's very first writing session his debut single "Bones" came to life, a song he dedicated to his late grandfather. He later signed to Hard 8 Working group management. Since then, Beyer has released the "Walk on" EP along with several singles.
Kimberly Kelly: A native of Lorena, Texas, singer-songwriter Kelly has spent years in both the Texas and Nashville music scenes earning an education in experiences that have made her both fearless in her approach to creating and unafraid to defy convention when it comes to industry expectations. Those years of hard work, all while also earning a Master's degree and working fulltime, culminated in the Summer of 2021 in a long-awaited record deal with Show Dog Nashville. This July, Kelly made her label debut with the album, I'll Tell You What's Gonna Happen via Show Dog Nashville in partnership with Thirty Tigers.
Will Jones: Beginning his music career at just six years of age, Jones started performing with his family's traveling bluegrass band, The Cana Ramblers, and would go on to garner national notoriety for their final album release in 2009, No Expectations. Since going his own with a solo career as a singer-songwriter at the age of 17, Jones' music has taken him all over the southern United States performing at high profile events with some of the biggest names in the country music spectrum, including Tracy Lawrence, Sierra Hull, Sarah Jarosz, Chris Thile, Johnny Cash, Osborne Brothers, Ralph Stanley, Ben Haggard and many more.
Mae Estes: In the late 90's, seven-year-old Estes walked into an Arkansas rodeo arena with a cordless microphone and sang the national anthem a cappella for the first time, claiming she could do it better than LeAnn Rimes. She went on to perform at every rodeo she competed in, and eventually other sporting events, ceremonies and opries. Unlike most middle schoolers, Estes performed every Tuesday night on an AM radio show, where she first discovered her love for traditional country music. Eventually moving to Nashville in 2015, she's been paying her dues from the moment she stepped foot in Music City, working up to three jobs at a time to financially stay afloat and playing for anyone who'd listen. Taking inspiration from artists like Lee Ann Womack and Keith Whitley, Estes merges the timelessness of traditional country music with modern melodies and production to form her exclusive artistry.
Chancie Neal: Nashville-based country artist from Calhoun, Louisiana, Neal toured for seven years with Luke Bryan, and was featured on Bryan's ACM-nominated album, Born Here, Live Here, Die Here, in 2020. Neal is a platinum-selling songwriter with a holiday song recorded by Bryan and included on Duck the Halls: A Robertson Family Christmas Album (Duck Dynasty). Neal was also the featured songwriter at the inaugural Nashville Nights International Songwriters Festival in Denmark in 2021 and still holds the record as the youngest World Champion Barrel Racer, having trained under legend Martha Josey.
In addition to musical acts on August 20, fan fest patrons will be able to take part in three line dancing lessons (2 p.m., 3:15 p.m., 4:15 p.m.) under the instruction of Darcy Leasure, a featured professional from the Wildhorse Saloon.
The bull riding action for the 2022 PBR Team Series' Stampede Days at Bridgestone Arena begins at 7:45 p.m. CDT on Friday, August 19, 6:45 p.m. CDT on Saturday, August 20, and 12:15 p.m. CDT on Sunday, August 21, with times subject to change.
Tickets for the three-day event are on-sale now, and start at $20, taxes and fees not included. Tickets can be purchased online at Ticketmaster.com and PBR.com, at the Bridgestone Arena Box Office, or by calling PBR customer service at 1-800-732-1727.
Three-day ticket packages will also be available, offering fans up to a 25% discount on select price levels.
For more information about Nashville Stampede, visit pbr.com/teams/stampede/, Nashville Stampede on Facebook, @NashvilleStampede on Instagram, or @Nash_Stampede on Twitter.
Photo courtesy of Andy Watson/Bull Stock Media
© 2022 PBR Inc. All rights reserved.