Longtime Rodeo Announcer Dr. Charles 'Bud' Townsend Passes Away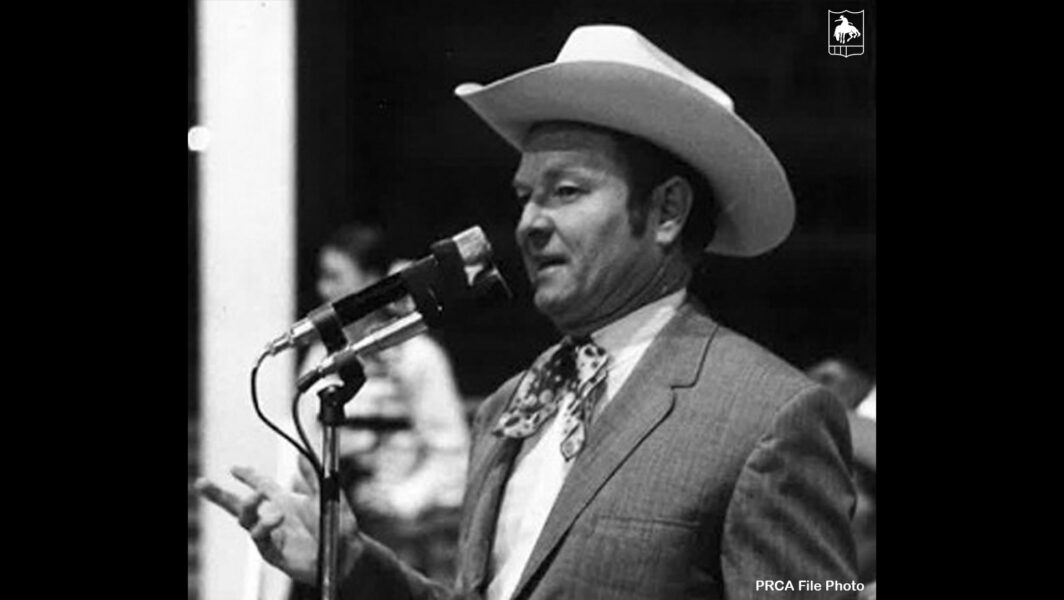 Longtime award-winning rodeo announcer Dr. Charles "Bud" Townsend of Canyon, Texas, passed away Jan. 21, 2023. He was 93.
Townsend was born Nov. 5, 1929 in Nocona, Texas, and grew up on his grandfather's farm. In his youth he and his friends rode steers, but he only won second one time. His rodeo competition was brief. Townsend enjoyed mimicking the rodeo announcers to his young friends. When an announcer did not show up at a Ringgold, Texas, rodeo his friends urged him to volunteer. He announced on a crystal microphone which would stop working if it got too hot.
His professional rodeo announcing career began in 1946 when he was 16. For the next 50 years he announced rodeos for Bobby Estes, Homer Todd, Cotton Rosser, Beutler Brothers, Everett Colborn, the Steiners, and Walt Alsbaugh. At Rodeo Cowboy Association conventions, he booked rodeos from Fort Worth, Texas to Omak, Wash.; Greeley, Colo., to Belle Fourche, S.D.; Ponca City, Okla., to North Carolina and the Deep South.
Townsend continued his education, attending Midwestern State at Wichita Falls, Texas, Baylor University and received his PhD in history from the University of Wisconsin. He became a professor of history at West Texas A&M in Canyon, as well as Texas Tech University and Hardin Simmons. He spent 27 years at West Texas A&M, and retired Professor Emeritus. He always said he learned to teach history, in such a way his students enjoyed learning, from his time spent in rodeo during summers.
He married Mary Smith before she graduated from high school, but she never quit learning. Mary received her master's degree and taught school. They had three children, Bill, Mary and Charles. When Bud and Mary retired, they traveled the world, including horse races at Saratoga, N.Y.
Townsend was inducted into the Texas Rodeo Cowboy Hall of Fame in Fort Worth; received an American Cowboy Culture 'Lifetime Achievement Award' and 'All Around Cowboy Award' in Lubbock; Rodeo Historical Society's Rodeo Hall of Fame at the National Cowboy & Western Heritage Museum, Oklahoma City; and The Cowboy Hall of Fame in Fort Worth. He also received Canyon's Man of the Year honor in 2019.
He won the 1975 Wrangler Book Award at the National Cowboy & Western Heritage Museum for his book, "San Antonio Rose, The Life and Music of Bob Wills." He also won a Grammy for his album notes, "Bob Wills & His Texas Playboys: For the Last Time". Townsend continued to interview western musicians and collecting their stories. He also announced at the Lubbock Cowboy Symposium for years. His memory of his rodeo experiences never failed him, and his speaking engagements never ceased.
Townsend was preceded in death by his wife, Mary, and his son, Charles 'Buddy' Townsend Jr. He is survived by his son, Dr. Bill Townsend and wife, Dr. Janet Townsend; daughter Dr. Mary Townsend and husband, Dr. Michael Guttenplan; and Cindy Townsend Aycock, surviving wife of Charles 'Buddy' Townsend; seven grandchildren and 12 great-grandchildren. Memorials can be made to the Charles R. and Mary Townsend Scholarship at West Texas A&M University. WTAMU Foundation, WTAMU Box 766, Canyon, Texas, 79016-0001.
Funeral Services will be held on Jan. 26 at 2 p.m. (CT) at Crossroads Country Church, 14425 Farm to Market Road 1541, Amarillo, Texas, 79118. The family will receive friends Jan. 25 from 5-6 at the Brooks Chapel, 1702 5th Ave., Canyon, Texas, 79015. Burial will be in the family plot at Dreamland Cemetery in Canyon.
Courtesy of PRCA