Cole Goodine Wins Inaugural Maple Leaf Circuit Finals Rodeo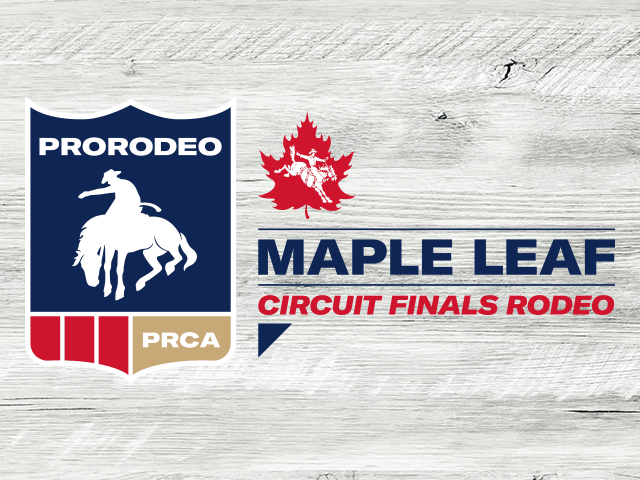 REGINA, Saskatchewan – Although he entered the arena at the bottom of the list, Cole Goodine went home as the first Maple Leaf Circuit Finals Rodeo bareback riding champion Nov. 30.
"It means a ton to me, being a patriot for Canada and for our sport, as well," Goodine said. "Winning the first one ever is huge."
Goodine ranked 16th in the Maple Leaf Circuit Standings for bareback riding with $1,169, but he won more than that during the first round in Regina, Saskatchewan.
"It feels unreal, but I ride my best when I'm the underdog and have nothing to lose and can throw everything at them," Goodine said.
The Carbon, Alberta, cowboy won three of the four rounds to win the average by 2.5 points with 333 points on four head, taking home $6,123.
"The horses were good and the guys rode unreal, and it was a grind," Goodine said. "I had to fight for it every single day."
Goodine won Round 1 with an 85.5-point ride on C5 Rodeo's No Show Jones and returned for another winning 85.5-point ride on C5 Rodeo's Tombstone. Goodine went on to win Round 4 with 88 points on C5 Rodeo's Blackstrap.
Goodine's best ProRodeo season came in 2016 when he ranked 40th in the PRCA | RAM World Standings and fourth in the PRCA | Resistol Rookie Standings for bareback riding with $19,560.
Meanwhile in the Great White North, things have been as good as gold for Goodine. He's qualified for the Canadian Finals Rodeo every year since his Canadian rookie year (2014-19). But it wasn't all smooth sailing, and the 2019 season was no exception as he missed nearly three months of competition due to a leg injury sustained at the Broncs and Honky Tonks Spring Indoor Rodeo in Medicine Hat, Alberta, April 5-7.
He returned in time for Cowboy Christmas, placing second at the Williams Lake (British Columbia) Stampede, June 30.
"Coming off an injury, I can't be happier with how it (2019) went," Goodine said. "I had a chance to win the Canadian Finals and held my spot. I'm happy with how it went."
Now 29, Goodine is looking forward to competing more in the U.S. while he shoots for his seventh consecutive Canadian Finals Rodeo and a debut at the Wrangler National Finals Rodeo in 2020.
"It (winning the MLCFR) gives me a pretty good boost for money won and gives me a good start considering I missed some of the year for injury," Goodine said.
Other winners at the $149,678 rodeo were steer wrestler Cody Cassidy (20.5 seconds on four head); team ropers Riley Warren/Clay Ullery (32.6 seconds on four head); saddle bronc rider Kolby Wanchuk (329.5 points on four head); tie-down roper Jesse Popescul (40.0 seconds on four head); barrel racer Brooke Wills (54.819 seconds on four runs) and bull rider Jacob Gardner (249.5 points on three head).
For more coverage of the MLCFR, check out the Dec. 20 edition of ProRodeo Sports News.
Courtesy of PRCA