Different Horse, No Problem for Reigning Tie-Down Roping Champ Mayfield in Redmond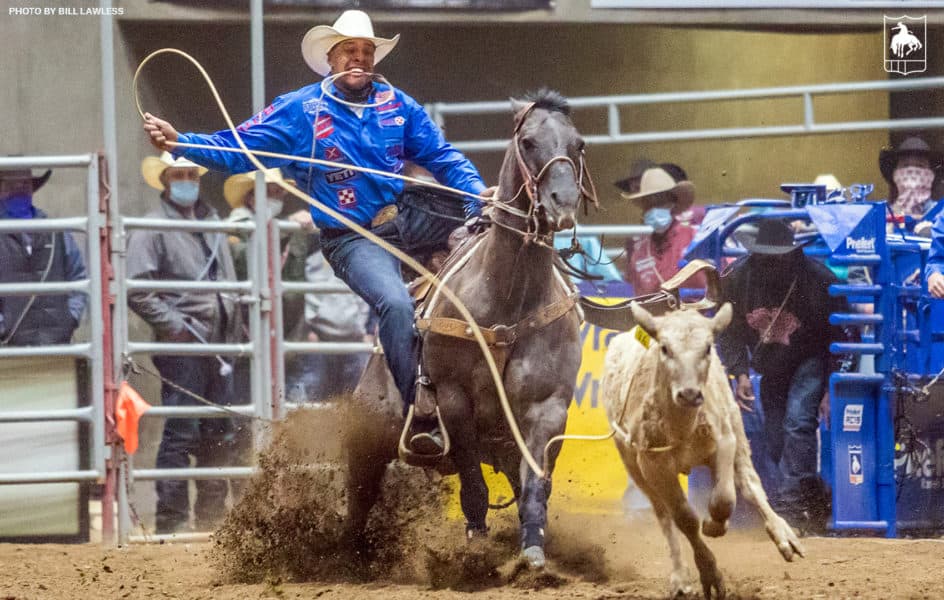 First, he doubted even entering this weekend's High Desert Stampede in Redmond, Ore. And if he did, 2020 world champion tie-down roper Shad Mayfield would have to compete there riding a horse he had seen only in the practice pen.
Not only did Mayfield make the journey to the First Interstate Bank Center from his future home in Lipan, Texas, but aboard friend Richard Newton's horse, stopped the clock in 8.0 seconds, then had to wait through three performances before finding out the time stood for the victory and $4,876.
"That's part of it; you have to be able to rope on any horse," Mayfield said. "I knew the horse, just had never ridden him, but knew he was going to do his part. I just had to do mine."
The High Stampede offered $8,500 added money per event with the grandstands limited to 25-percent capacity.
"It was nice to have, and I was glad Redmond was an option this year, but I was questionable about going out there. I told myself to just enter it, and it paid off."
The payday solidified Mayfield's third-place ranking in the latest PRCA | RAM World Standings. His 2021 season got a jump start after splitting the victory at the Heart O' Texas Rodeo last October ($4,890) and added another highlight by claiming the crown and $7,412 at Rodeo Rapid City (S.D.) in early February.
But for the first time, Mayfield took a victory lap wearing something extra special.
His world champion buckle.
"It took a while to finally get it," said Mayfield, who said it arrived in the mail earlier this month. "That's when it really set in, just opening it up and looking at it. That's when you realize it. But I've got to keep going. You hear the announcer say you're the world champ, but you have to let it go in one ear and out the other. I try to stay humble about it. It's a great feeling, but I plan to get another one this year."
Although Mayfield hails from Clovis, N.M., he doesn't intend on setting down roots in the Land of Enchantment. The 20-year-old recently closed on land on which to build his future, located about one hour southwest of Fort Worth, Texas.
"This is where I'm going to call home, and it's perfect for rodeo," Mayfield said. "I've been looking for about year, but it's been hard to look (considering COVID-19). I came across the perfect land and finally closed on it. It's going to be simple, just a house and a barn. That's all I need."
Other winners at the $144,892 rodeo were bareback rider Tim O'Connell (88.5 points on Bridwell Pro Rodeos' Meat Sweats); steer wrestler Jason Thomas (3.8 seconds); team ropers Riley Minor/Brady Minor (4.9 seconds); saddle bronc riders Jade Blackwell (86.5 points on Bridwell Pro Rodeos' Pearl Necklace) and Chase Brooks (86.5 points on Bridwell Pro Rodeos' Jaugernaut); barrel racer Megan McLeod-Sprague (16.69 seconds); bull rider Josh Frost (87.5 points on Bridwell Pro Rodeos' Mr. Moody) and all-around cowboy Russell Cardoza ($3,491, tie-down roping and team roping).
Courtesy of PRCA