Hart Knows he Can Trust Kasel to Convert for Kansas City Outlaws
By: Justin Felisko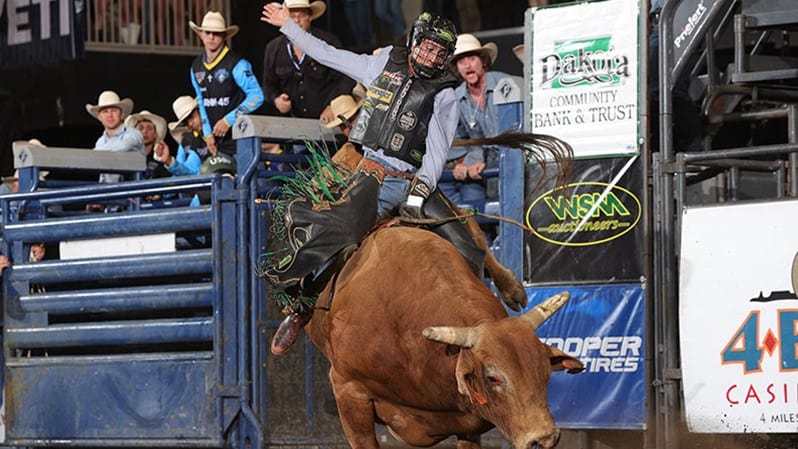 PUEBLO, Colo. – There was still one game remaining during the Dakota Community Bank & Trust PBR Team Series Preseason Event last weekend in Bismarck, North Dakota, when Kansas City Outlaws coach J.W. Hart walked up to Dalton Kasel and slapped him on the back.
"I don't care which bull it is. You are going to be our guy in the Bonus Round," Hart told his first-round draft pick.
Kasel did not hear anything else and simply nodded.
One of the major benefits for the Outlaws selecting Kasel with the No. 4 pick during the 2022 PBR Team Series Draft, presented by ZipRecruiter, is the comfort level that Hart has with him.
Hart has gotten to know Kasel over the last five years, and the two share a variety of common bonds outside of the arena and a similar nose-to-the-grindstone approach to the sport.

"Every coach wants something a little different," Hart said. "We all have our own idea of what they want a team to be built around, and mine is around toughness. I don't just want a good rider. I want a good rider, but I want toughness in a guy who is willing to put it out there every time. He fits that mold as good as anybody. He holds that pretty true. We have seen him get banged up his whole career, but he never lays out in the arena or makes a show out of it. He doesn't wait for the trainers. It is get up and get out of the arena to where nobody can see me and then lay down in pain where no one can see me. That is the way it is supposed to be in my book. And trust me, I have been helped out of there enough. If you aren't dying, get up and get out of there, and that is his motto."
Hart and Kasel were a one-two punch on the opening weekend of PBR Team Series Preseason competition.
The 47-year-old head coach and 23-year-old rider echoed the same message before, after, and in between games as the Outlaws looked to build momentum toward the season-opener in Cheyenne, Wyoming, and the team's host event – Outlaw Days (Aug. 5-7 in Kansas City).
"After our training camp last week, we came the most prepared," Kasel said. "We focused on competing tough no matter what happens. We wanted to finish what we started."
Kasel led the Outlaws to victory in Bismarck courtesy of his 90.75-point ride on Oilfield Outlaw's Yellow Feather.
The 2019 Rookie of the Year went 2-for-3 for the Outlaws, who went 2-0 with victories over the Nashville Stampede (177-0) and the Oklahoma Freedom (173.75-87.75).
The trust factor between rider and coach is important, Hart explained.
"It is pretty key," Hart said. "I have known Dalton since he was a kid. There is a connection between us, too, just because all my kids are adopted, and he is adopted. We did a TV special over it. There is a camaraderie we have had since day one."
The Outlaws now turn their focus to this weekend's preseason finale at the PBR Tryon Chute Out: PBR Team Series Preseason Event.
It will be a chance for role players to step up, with Kasel taking the weekend off to haul bulls to Rocksprings, Texas. Riders expected to compete for Kansas City include Bob Mitchell, Marcus Mast, Dustin Martinez, Cole Melancon and Tate Pollmeier. In Bismarck, it was Melancon and Mast stepping up alongside Kasel.
RELATED: Melancon living what J.W. Hart is preaching to his KC Outlaws
Kansas City faces the Texas Rattlers on Friday night (8 p.m. ET on RidePass on Pluto TV) and then the Missouri Thunder on Saturday (7 p.m. ET on RidePass on Pluto TV).
After going 5-for-11 in Bismarck, Hart will be looking to see improved consistency from the Outlaws in Tryon.
"It was kind of an off-the-wall win with how we rode in the second game, and I know Jerome (Davis)'s team (Carolina) rode a bunch," Hart said. "It just boiled down to win-loss and a bonus bull. This is where preparation meets a little bit of luck. We got lucky that Daylon (Swearingen) fell off, but when your back is against the wall, and you are going against Carolina, you have to go with Dalton Kasel."
Follow Justin Felisko on Twitter @jfelisko
Photo courtesy of Andy Watson/Bull Stock Media
© 2022 PBR Inc. All rights reserved.