J.D. Struxness Stays Course for Big Win in Ellensburg, Wash.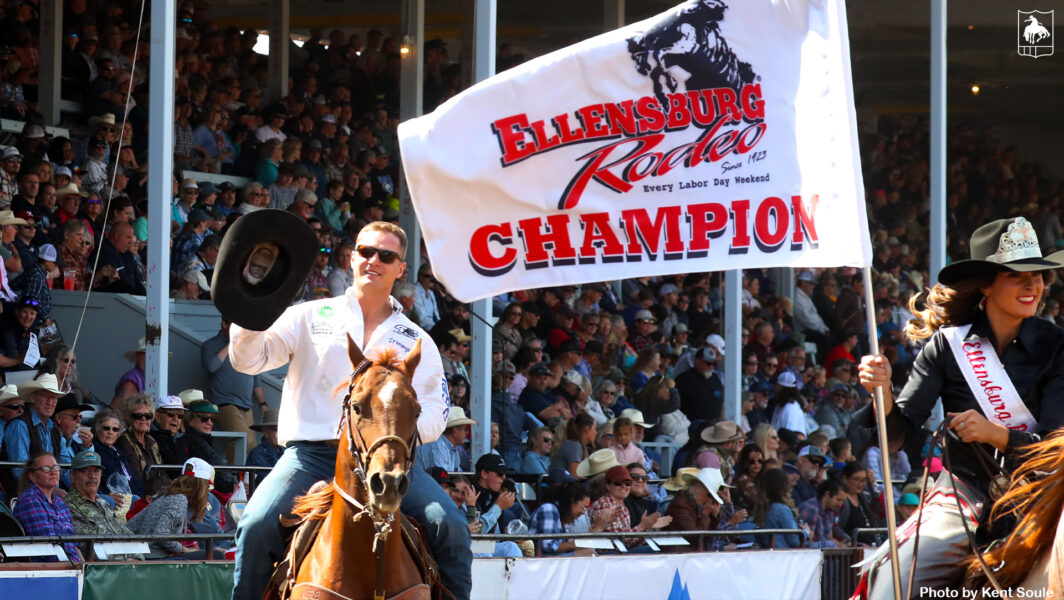 J.D. Struxness knows the Ellensburg (Wash.) Rodeo is a marathon, not a sprint. It didn't bother him when he placed eighth in the opening go-round of the steer wrestling competition, earning a mere $79.
The Milan, Minn., cowboy knows it's not how you start, but how you finish. And finish is exactly what he did.
Struxness followed his 4.7-second first-go with a run of 3.8 seconds to win round two and 4.8 seconds to place third in the finals. Combined, Struxness' aggregate time of 13.3 seconds was good enough to secure the victory, his first since the opening weekend of August.
"Being a little longer on your first one, it never takes you out of it in Ellensburg," Struxness said. "If you have a good chance to come back on a good steer, you just take the opportunities to set yourself up and see how the cards fall."
Bouncing back has been Struxness' mantra for some time now. The four-time qualifier for the Wrangler National Finals Rodeo placed third in the average at the Deadwood, S.D., Days of '76 Rodeo in late July and then won the first round of the Big Sky Pro Rodeo in Great Falls., Mont. the following weekend.
From that point on, things have been a bit difficult. Struxness' primary horse sustained an injury that has sidelined her for an extended period of time. To keep pace, Struxness has been riding other horses, but nothing has felt exactly right.
Since that Big Sky win, Struxness has made runs at 10 other rodeos, failing to place at eight of them, resulting in about $2,600 in earnings.
"There after Deadwood, I had my horse get hurt and I really went on a dry spell, and I've been trying to figure out and get in a groove with other horses. That was probably a huge part of my dry spell there," Struxness said. "Finally, I've been able to get on Bridger Anderson's horse for a week or two and really have been getting along with him good and getting a good feel for him. It was awesome that it finally came together this week, and we got a big win."
With a dry spell snapped and almost $9,700 earned in Washington, Struxness has shored up his position in the PRCA World Standings, jumping up to seventh place with more than $100,000 earned for the season.
His success in Ellensburg is the latest step forward for Struxness in securing his fifth NFR qualification. It would be his second straight trip to Las Vegas after placing fifth in the world last year.
"Coming into this month, a guy is always wanting to lock it down and have the wondering part over with," Struxness said. "So, anytime you can win money and make yourself feel a little bit more comfortable it's great this time of year."
Other winners at the $394,113 rodeo were all-around cowboy Stetson Wright ($14,970, saddle bronc riding and bull riding); bareback rider Keenan Hayes (174 points on two head); team roper Kaleb Driggers/Junior Nogueira (17.0 seconds on three head); saddle bronc rider Stetson Wright (177.5 points on two head); tie-down roper John Douch (26.3 seconds on three head); barrel racer Brittany Pozzi Tonozzi (51.21 seconds on three runs); breakaway roper Kelsie Domer (7.4 seconds on three head); steer roper Taylor Santos (23.4 seconds on two head); and bull rider T Parker (176 points on two head).
Courtesy of PRCA