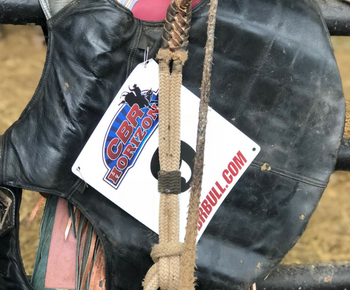 Rain or shine the show must go on and that is exactly what took place Saturday night in Giddings, TX. The Lee County Sheriff's Posse hosted the CBR Fury on the 7th and the fans braved the weather as show time began.
Cody Jesus led the long round with 89.5 points on Dirty Blonde owned by D4 Cattle Company/Brown Ranch, followed by Devers TX native DJ LaFleur with 87 points on GEM Bucking Bull Lil Cranky.
A bull called Miller Time of Diamond Cross Rodeo was drawn by JT Moore of Alvin to earn a score of 85. Also of Diamond Cross, Colorado Chrome took Ben Jones for a ride, scoring 84.5 points, tying with Brandon Parrish on Blind Spot of Championship Pro Rodeo/Cude Bucking Bulls.
The bull power in the short round proved too much for cowboys, only receiving two qualified rides. Clayton Appelhans of Colby, KS brought back to short round based on time, drew Frenzel Bucking Bulls Mad Max. Appelhans has been hitting the roads hoping for the chance to make the CBR World Finals, and the 81 points he received solidified his qualifying spot in Cheyenne.
J.T. Moore, the only rider to cover both bulls for the night rode Kojack of Harris/Rawson for 85.5, ultimately taking home championship for the final Horizon event in 2018.
Last night's CBR Horizon competition was part of the CBR Bull Team Challenge (BTC). With a prize purse of $48,750, stock contractors compete with three bulls that are featured during two rounds of competition. The bulls receive points for their performance and additionally, the time the bull rider stays on is combined to the bull's score. At the end of competition, the total bull team scores determine the BTC Champion. Harris/Rawson received first place in the bull team competition with a check of $21,500.00.
---
Average Results
1st Place: J.T. Moore, 170.5 points, $3,977.34.
2nd Place: Cody Jesus, 89.5 points, $3,405.31
3rd Place: DJ LaFleur, 87 points, $1,997.57.
4th Tie: Ben Jones & Brandon Parrish, 84.5 points, $553.15.
Bull Team Results
1. Harris/Rawson, 272.6 points, $21,500. 2. Rockin R Bucking Bulls/Peterson, 270.48 points, $13,000. 3. GEM Bucking Bulls, 269.58 points, $8,750. 4. D4 Cattle Co., 268.46 points, $5,500.
Follow CBR on social media Facebook – Championship Bull Riding, @cbrbull on Instagram and Twitter.
Courtesy of CBR