Kasel Continued to Learn While Hauling Bulls to Pendleton Whisky Velocity Tour
By: Justin Felisko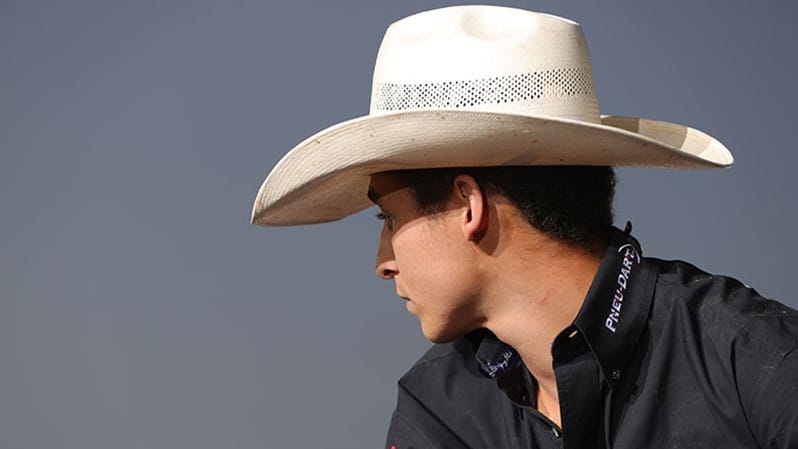 PUEBLO, Colo. – 2019 Rookie of the Year Dalton Kasel was a month removed from reconstructive elbow surgery on his free arm as he began a 1,400-mile journey north to Grand Forks, North Dakota, this past April.
Kasel was hauling a set of bulls for Rickey Shuler to the Pendleton Whisky Velocity Tour event in Grand Forks before heading south to Wichita, Kansas, for a second consecutive PWVT event the following week.
The 22-year-old has often worked around cattle when he isn't competing on the Unleash The Beast, and he was thankful for an opportunity to stay involved in the sport as he was stuck on the sidelines.
There was also a little bit of excitement for those events as he would anxiously wait to see the draw and which riders were matched up with his bulls. While nothing compares to reaching the 8-second mark, Kasel had bull riding excitement in his veins.
"It kept me busy, and it was good because I was gone for about two weeks total," Kasel said. "It was good for me. It was like a month after my surgery. It was just me. I had to carry feed and hay. That helped my elbow a ton. It was kind of like rehab stuff."
If Kasel could not ride, then he made sure to be around bucking bulls at home in Stephenville, Texas, where he and his wife, Paydon, moved three months ago, as well.
"I just love being around the sport," Kasel said. "At the house, we were always bucking bulls. I learned a lot. I just learned how to handle cattle a lot better, and I never had really been around the bull stuff on the futurities side of it either. I got a strong liking to it, and (Rickey Shuler) taught me a bunch of different things – what to see and how to flank. Just watching bulls buck once and how you can change the flank up."
There was something else that Kasel realized as he was sitting on the sidelines and watching the Velocity Tour or UTB events on television.
There was no reason that he should not be one of the top riders in the world when healthy.
"That is the thing. I went to all of them Velocities, and I was like, 'Dang, there is not a single thing that should buck me off,'" Kasel said.

Kasel has very rarely bucked off since returning to competition from his surgery this past summer following an almost four-month layoff.
He is 14-for-22 (63.64%) at all levels of competition, and this past weekend won the Wrangler Long Live Cowboys Classic in Sacramento, California, with a 91-point ride on Speed Demon.
"Dalton rides him just perfect to me," two-time World Champion Justin McBride said on CBS Sports Network. "This bull is always wanting him out, wanting him out, but he doesn't move too far. He just moves back to the middle. Not past that. The bull is stepping ahead. Great job for Kasel all weekend long."
The victory was Kasel's first since winning his only other UTB event at the regular-season finale in Nampa, Idaho, two years ago.
"I feel awesome," Kasel said. "I had that surgery on my elbow back in March, and I have had no problems. I was telling my wife I am feeling healthier now than when I made that run at Rookie of the Year. Riding-wise and everything, I just feel so much better."
Sunday was also the one-month birthday of his baby girl, Willow Rae.
"I am loving having a family," Kasel said. "It has been so much fun and so much motivation. Ever since I got married and had a kid, I'm not nervous about anything because I always have somebody back home that I can count on."
Kasel can also depend on his body inside the arena for the first time in his PBR career. He has never been as healthy as he is heading into this weekend's Bad Boy Mowers Mowdown in Little Rock, Arkansas.
Even during his impressive rookie season, Kasel struggled with injuries to his groins, and he would ultimately undergo reconstructive surgery on his right groin twice during an eight-month period last year.
A healthy Kasel could be a dangerous rider for the remainder of the 2021 season.
Kasel is up to No. 16 in the world standings heading into this weekend's Bad Boy Mowers Mowdown in Little Rock, Arkansas, and he could leave Simmons Bank Arena inside the Top 10 with another strong performance.
The third-year pro has drawn Two Dollar Pistol (0-0, UTB) for Round 1 (8 p.m. ET Saturday on CBS Sports Network) and I'm Legit Too (29-11, UTB) for the 15/15 Bucking Battle (12:30 p.m. ET Sunday on CBS national television).
Kasel is confident he can ride aggressively, knowing his body is 100% healthy.
"When I had my groin surgery, it took me a while to get back," Kasel said. "I learned that whenever I ride my best is when I am aggressive, and I wasn't after my groin surgery. I made it a point after this elbow surgery that I would stay aggressive the whole time right off the bat. That is what has helped me so much."
VELOCITY TOUR HEADING TO SPRINGFIELD, MA; WATCH LIVE ON PLUTO TV
The Velocity Tour's next event is the Springfield Invitational on Friday and Saturday at the MassMutual Center in Springfield, Massachusetts.
No. 35 Eli Vastbinder and No. 37 Michael Lane will be continuing to make their push for the 2021 PBR World Finals as both riders are battling for the last few qualifying spots.
If Lane were to not crack the Top 35, the No. 1-ranked rider in the Velocity Tour will certainly have a pathway to T-Mobile Arena in Las Vegas via the Pendleton Whisky Velocity Tour Finals on Oct. 30-31 at the South Point Arena in Vegas.
Fans can watch all the action from Springfield LIVE on Pluto TV beginning at 8 p.m. ET Friday and 7 p.m. ET on Saturday.
Follow Justin Felisko on Twitter @jfelisko
Photo courtesy of Andy Watson/Bull Stock Media
© 2021 PBR Inc. All rights reserved.