Kasel Ready to Take the Next Step in 2022
By: Justin Felisko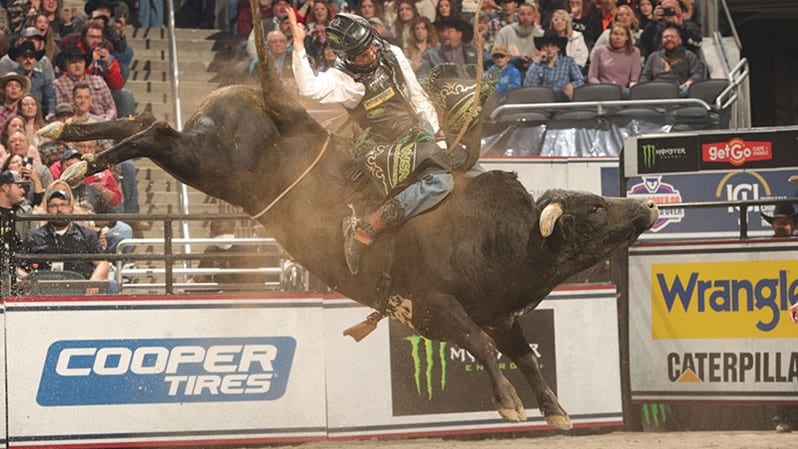 INDIANAPOLIS – The first rider to hit the 90-point threshold in 2022?
Dalton Kasel.
The 2019 Rookie of the Year began his fourth season in the PBR Saturday night with a 90-point ride on Gangster Bones, making a strong recovery in the early seconds when Gangster Bones lost his footing leaving the bucking chutes inside Gainbridge Field House.
"I knew that bull was really good," Kasel said. "Rickey West has really good bulls, and I knew that bull was going to be one I could place high on. So I just had to keep hustling."

Kasel could not get past WSM's Jive Turkey in the championship round (4.68 seconds). Still, the Muleshoe, Texas, native's 90-point ride in Round 1 was enough to push him to a third-place finish at the PBR Monster Energy Invitational in Indianapolis.
The 23-year-old is just one of a group of young, up-and-coming riders, including event winner Mason Taylor, who may just be ready to take the next step in 2022. Fellow young gun Cody Jesus, 23, placed fourth in Indianapolis courtesy of his 89.5-point ride on Dagger in Round 1.
Kasel hopes that this is the season he will finally be able to show PBR fans, as well his competitors, just what he can do with a potentially full season on the premier series.
"It's nice to be healthy and be able to go to the very first one," Kasel said. "I went to a couple open bull ridings during this break. Matt West was announcing at one. And anyways, I told him, I said, 'You'd better watch out. This year, I plan to be a World Champion.'"
Kasel first made it to the PBR's highest level during the second half of the 2019 season and quickly ascended the world rankings to finish his first year eighth in the world standings. Kasel took a step back in 2020 when he finished 40th in the world standings after undergoing two core muscle repair surgeries.
He then had to miss almost four months last year in the first half recovering from reconstructive surgery on his free arm.
Kasel eventually returned to action in June and went on to conclude the year 14th in the world standing. He rode a career-best 17 bulls on the premier series last season, but he knows he is capable of much, much more this year.
After earning 55 world points in Indianapolis, Kasel will head into next weekend's PBR Monster Energy Buck Off at the Garden sitting fifth in the world standings. Kasel trails world leader Mason Taylor by 72 points.
"Heck, I think the only reason I haven't been (in world title contention) is because I haven't been healthy," Kasel concluded. "I'm feeling better than I ever have, and this is the first time I've been able to start a year from the beginning healthy. I've been riding a bunch of horses and working. So nothing different, I am just healthy and happy."
Follow Justin Felisko on Twitter @jfelisko
Photo courtesy of Andy Watson/Bull Stock Media
© 2021 PBR Inc. All rights reserved.