Kimzey Ready to Show the World he Can Hang on the Unleash The Beast
By: Darci Miller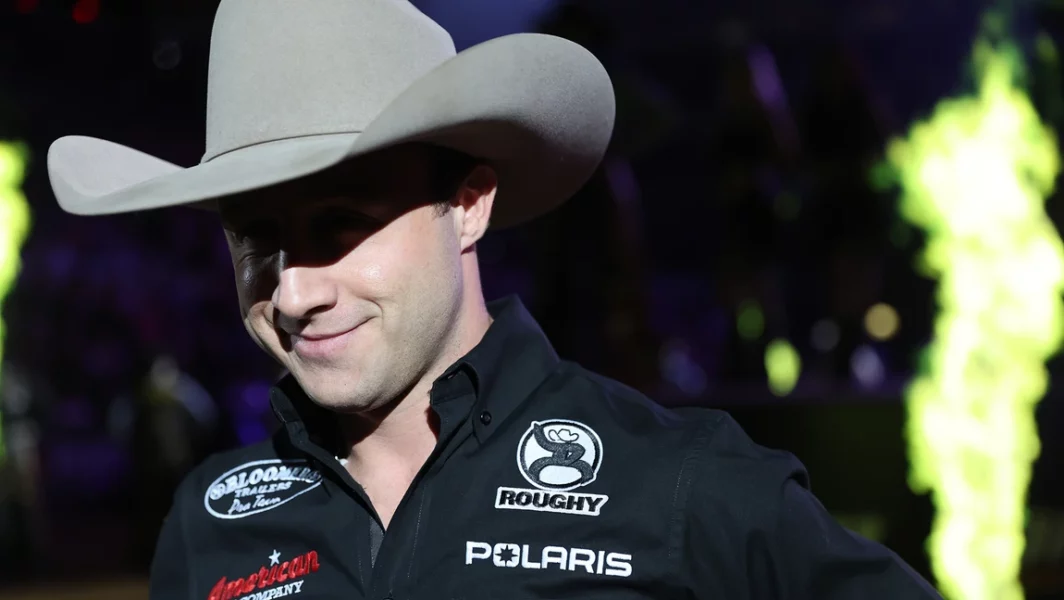 PUEBLO, Colo. – Seven-time PRCA bull riding world champion Sage Kimzey is used to seeing his name at the top of leaderboards.
But this past weekend in Tucson, Arizona, was a first.
Kimzey's name was at the top of a PBR Unleash The Beast event leaderboard for the first time.
It would ultimately be overtaken by Caden Bunch, but Kimzey tied with Joao Ricardo Vieira for second place at the PBR Tucson – Kimzey's first-ever regular-season UTB event.
"It's great," Kimzey told CBS Sports Network's Kate Harrison. "It's been a long time coming to come over here, full-time PBR, and I'm just trying to capitalize on my opportunity, for sure."
Kimzey has some limited PBR experience dating back to 2015, mostly amounting to major rodeos that overlapped with Pendleton Whisky Velocity Tour or Touring Pro Division events. He qualified for the 2017 Pendleton Whisky Velocity Tour Finals by virtue of his win at The American that year, winning that event to qualify for the 2017 PBR World Finals, where he went 3-for-6 and finished 12th.
He competed at the 2019 Global Cup for the Team USA Eagles and then participated in the Monster Energy Team Challenge in the summer of 2020.
In 2022, Kimzey joined the PBR full-time as a commentator during the inaugural PBR Camping World Team Series season. He was so intrigued that he declared for the draft in 2023, joining the Carolina Cowboys for his first sustained PBR run.
The Cowboys went 11-17 to finish sixth in the regular-season standings before finishing seventh at the 2023 PBR Camping World Teams Championship.
"It was great. I love the Team Series," Kimzey said. "Obviously, Carolina had a little rough go with all the injuries we had, but I love the Team Series."
And the stats prove it. Despite missing almost a month of the season due to injury, Kimzey went 5-for-11 (45%) with three 90-point rides.
Because UTB qualifiers are largely determined based on PBR Teams performance, it was unsurprising that Kimzey made the cut. However, it was surprising to see him officially in the draw for Tucson.
The longtime PRCA stalwart had finally decided to test the PBR waters – and is probably the most decorated rookie the PBR has ever seen.

What made now the time?
"Mainly just time with my family," Kimzey said. "I've got a little one at home, and it's hard to leave him."
So far, his UTB experience is living up to his expectations.
"Me and all the guys have been buddies for a long time," Kimzey said. "It's just bull riding, at the end of the day, but it's fun."
Tucson was indeed just another weekend at the office. Kimzey kicked things off with 86 points on Texas Twister in Round 1 before riding Off Campus for 88 points in Round 2.
"This bull pulls him down right around that corner," 2016 World Champion and fellow Carolina Cowboy Cooper Davis said on CBS Sports Network. "A young guy probably would've panicked right there, but being the seven-time PRCA world champion that he is, he doesn't panic. All he does is open up and get a few extra points right there.
"This is going to be fun this year, watching him battle it out."
Kimzey saved the best for last in Tucson, riding Renegade for 89 points in the championship round, moving briefly into the lead alongside Vieira.
Kimzey will next be in action when the UTB returns on Dec. 2-3 with the PBR St. Louis. Action begins on Dec. 2 at 7:45 p.m. ET on RidePass on Pluto TV.
His performance in Tucson may not have been an event win, but it puts him at No. 3 in the early 2024 Unleash The Beast World Championship standings – just ahead of two-time World Champion Jose Vitor Leme, who finished fourth in Tucson.
With seven PRCA world titles, there's not much left for Kimzey to prove, but he's on a mission to silence some critics.
"There's been a lot of speculation if I can hang over here, against these rank bulls, against these great guys," Kimzey told Harrison. "I know I can, but it's time to go show the world that."
When asked if he has a goal for this season, Kimzey grins.
"Yeah," he said with a laugh. "A world champ."
Photo courtesy of Andy Watson/Bull Stock Media
© 2023 PBR Inc. All rights reserved.