Kincade Henry Highlights PRCA Cowboys to Win CNFR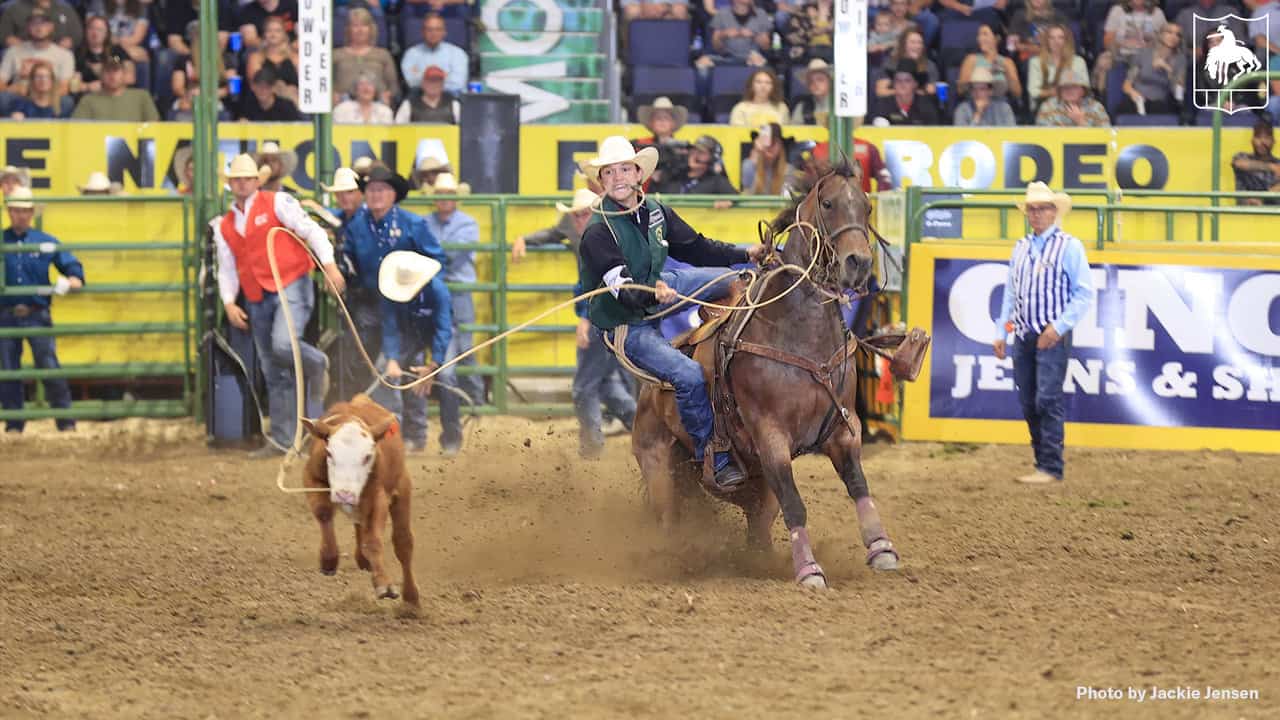 Kincade Henry is no stranger to the College National Finals Rodeo. A year ago, he finished fifth, but in 2022 he had his sights set on a much bigger goal.
He wanted to walk out of Casper, Wyo., as a national champion and the Mount Pleasant, Texas, tie-down roper did just that. Roping for Panola College out of Carthage, Texas, Henry took home the average title with 38.1 seconds on four head.
"It has always been a huge goal of mine to win a College National (Finals Rodeo) Championship and then a PRCA World Championship," said Henry, 20. "That's been my two huge goals this year. Now, that I have one out of the way I can focus on the other."
And he was quick to credit his head coach Jeff Collins after the win. Collins was the 2000 PRCA Bareback Riding World Champion.
"Coach Jeffrey Collins is one of the best guys I've ever met and he's one of the best guys anybody will ever meet," he said. "He's an old bareback rider, but he knows so much about rodeo and so much about winning.
"After I won, he was emotional and said, 'I don't know how this old bareback rider got two tie-down ropers (to win college national championships).' It was a special moment and that's a special guy right there."
Henry secured his first national championship with a 9.0-second time in the finals. In 2021, Macon Murphy won the tie-down roping national title for Panola.
Henry said headed into his final run the nerves were there, but he was able to calm them before backing into the box.
"I feel like at one point before I kind of got nervous and then I realized I'm making this a bigger deal than what it actually is," Henry said. "So, I scaled my mind back down. Whenever I rode in the box, I didn't have anything on my mind, everything felt good. I just knew if I did my job that I would be OK."
That mentality led him to a college title, and he hopes that trend will continue in ProRodeo. Henry currently sits eighth in the PRCA | RAM World Standings with $51,267. Last season, he finished just outside the Top 15, barely missing out on a trip to the Wrangler NFR.
He said going into the summer run this year he's changing his mentality a bit.
"Instead of going out there and trying to win everywhere and trying to beat these guys I'm just going to go rope, have fun, and do my job," he said. "That's my game plan this year, of course I still have the end goal and that's on my mind every single day. But rodeo to rodeo I'm not focusing on the results, I'm just focusing on the next step."
Six other PRCA cowboys also claimed titles at the 2022 College National Finals Rodeo.
Bareback Riding: Ty Pope, Missouri Valley College, 318.5 points on 4
Saddle Bronc Riding: Shea Fournier, McNeese State University, 315 points on 4
Steer Wrestling: Walt Arnold, Tarleton State University, 16.9 seconds on 4
Bull Riding: Casey Roberts, Three Rivers College, 239.5 points on 3
Men's All-Around: Cole Walker, University of Tennessee-Martin, 239.5 points
Men's Rookie: Andy Guzman, Mesalands Community College, 215 points
Men's national champion: Tarleton State University in Stephenville, Texas
Women's national champion: Weatherford (Texas) College
Courtesy of PRCA