Koby Radley Captures Division 1 Xtreme Bulls Title in Fort Worth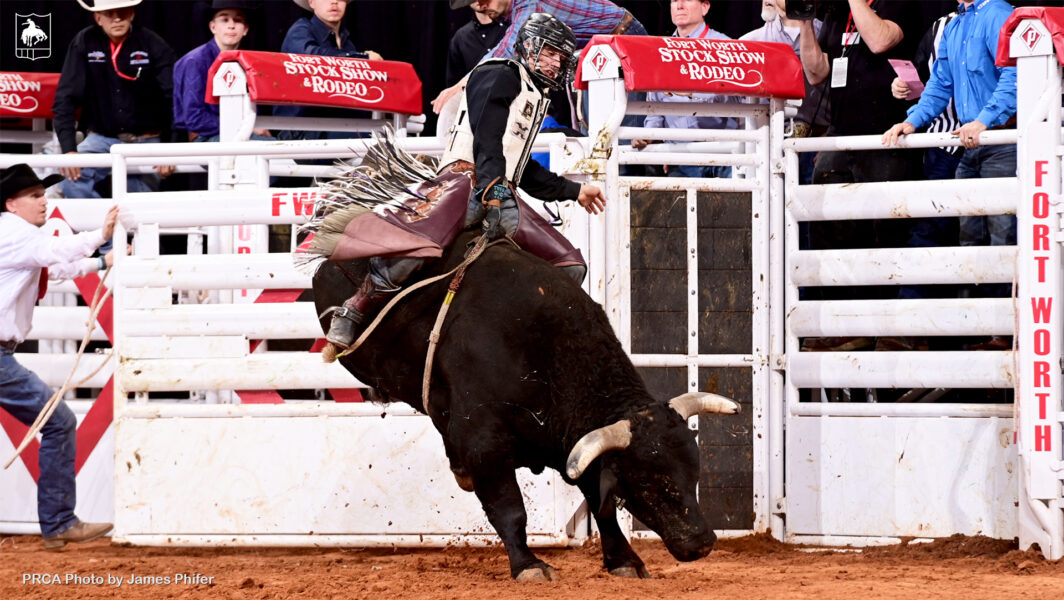 The winter rodeo season hasn't been friendly to bull rider Koby Radley. In previous years, he's been left playing catch-up in the summer. Radley's tired of falling behind, and hoping to flip the script in 2023. Wednesday night in Fort Worth, Texas marked the opening act, capturing a victory at the SWELS – Xtreme Bulls Division 1 title with 175 points on two head.
The Louisiana native's night began with a re-ride, bringing his first matchup to the dirt for him. The bull rider quickly dusted off, earning a spot in the finals with an 86.5-point trip on Stockyards ProRodeo's Armageddon. He put his faith in the contractor.
"I didn't know which bull I would get but I knew it was going to be a good one with it being one of Stockyards' (ProRodeo)," the bull rider said. "It was a good run."
In the short round, good fortune came his way. Radley drew Rafter G Rodeo's Johnny Thunder, a bull with an education in elevation. The cowboy figured reaching the eight-second mark would land him a win.
"I saw I had Johnny Thunder, and I knew he was going to be a handful. But if I could stay on him, I'd win it," said Radley. "I had a game plan and it worked out."
Radley followed the blueprint, securing the win with an 88.5-point ride. The trip earned him the $9,271 winning check, collecting $14,555 in all. His signature ride in the finals provided a sigh of relief, knowing he'd put his full ability on display.
"It comes down to doing your job and the rest will take care of itself. I've had a lot of success in the long rounds and have fallen short in the finals quite a few times," Radley said. "So, I was pretty excited about having that draw and really ecstatic to get the win."
It's been a bumpy road for Radley since his last NFR appearance in 2019. The bull rider has been sidelined by injuries, including knee surgery in 2020 and a broken shoulder in 2021. Radley believes this year could be a turning point.
"Getting that fire back is the key. When you deal with numerous injuries it's hard to come back from that," said the 24-year-old. "I've felt that over the past two years I haven't been performing the way I'm capable of. I'm ready to roll with it this year."
Last August, he and his wife, Shellie, welcomed a baby girl, Kolly, to the family. The cowboy cut his season short to be at home, spending his first weeks as a father alongside the newborn. Radley hopes she's the reason he makes another trip to Las Vegas.
"Yeah, maybe Kolly's my good luck charm," he chuckled.
Courtesy of PRCA