Novais Delivers Flawless Performance in Nashville Stampede Shut-Out Victory Over Austin Gamblers in Bismarck
By: Rachel Tighe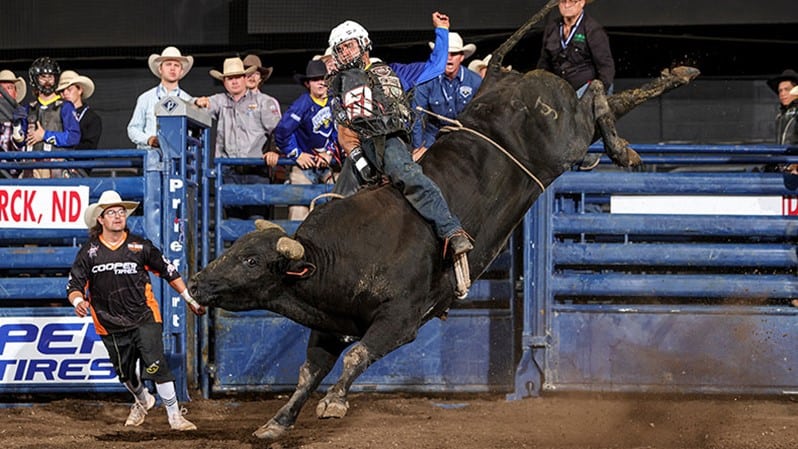 BISMARCK, N.D. – The Kansas City Outlaws (2-0-0) reigned supreme in Bismarck, North Dakota, winning the inaugural preseason event in the PBR Team Series – a new league of eight bull riding teams from across the country competing for a national championship. The Outlaws went 2-0 in their games on Friday and Saturday night and then relied on the first-round draft pick to put up a massive 90-point qualified ride in the one-ride-per-team bonus round.
The Outlaws had defeated the Nashville Stampede (1-1-0) on Friday night and again won their five-on-five game on Saturday by defeating the Oklahoma Freedom (1-1-0) with a 173.75-87.75 victory. In the bonus round set up to determine the two-day event's winning team among the two undefeated teams, the Outlaws and the Carolina Cowboys (2-0-0), who had defeated the Missouri Thunder (1-1-0) earlier in the evening, Dalton Kasel (Muleshoe, Texas) tallied 90.75 points on Oilfield Outlaw's Yellow Feather (Chad Berger/Oilfield Outlaw's Bucking Bulls), while the Cowboys' Daylon Swearingen (Piffard, New York) was bucked off.
Kasel was named the event MVP, tallying an aggregate score of 180.25 points after riding Oilfield Outlaw's Yellow Feather (Chad Berger/Oilfield Outlaw's Bucking Bulls) for 90.75 points and WSM's Nasty Wishes (WSM Auctioneers / Clay Struve / Dakota Rodeo / Chad Berger) for 89.5 points on Friday night.
The Kansas City Outlaws are based at the T-Mobile Center in Kansas City, Missouri, where the team's inaugural Outlaw Days homestand will be held August 5-7, 2022, the second event of the 2022 PBR Team Series season. Fans can find more information about the KC Outlaws by visiting http://www.pbr.com/teams/outlaws/.
The second and final preseason event of the PBR Team Series, the PBR Tryon Chute Out, is scheduled for Tryon, North Carolina, on June 24 (8 p.m. ET) and June 25 (7 p.m. ET), available LIVE on RidePass on Pluto TV (channel 720).
Nashville Stampede: 80 points
Austin Gamblers: 0 points
Rebounding from a loss on Day 1 of the Dakota Community Bank & Trust PBR (Professional Bull Riders) Bull Riding Challenge, the Nashville Stampede (1-1-0) secured their first preseason win. The Stampede was led by Fernando Novais (Pereira Barreto, Brazil), who tallied 80 points against Midnight Rain (Staci Wilks/N Bar Ranch/Clay Struve/Dakota Rodeo/Chad Berger), which was all the Stampede needed. Novais battled the entire ride, and initially was not given a score. However, upon judges' review, he was found to have made the 8 for the Stampede's first and only qualified ride of the night. The Austin Gamblers (0-2-0) were unable to score on their five rides, allowing Novais's gutsy effort to stand up for Nashville's win.
© 2022 PBR Inc. All rights reserved.